Calories
169
Fat
9 g
Carbs
13 g
Protein
9 g
Serves
4 (serving size = 140 g)
470 g cut and seeded acorn squash (from one whole 650 g acorn squash)
17 g grated Parmesan cheese
4 large eggs
10 g olive oil
Salt and pepper
Optional fresh thyme, for garnish
Share:
Tags: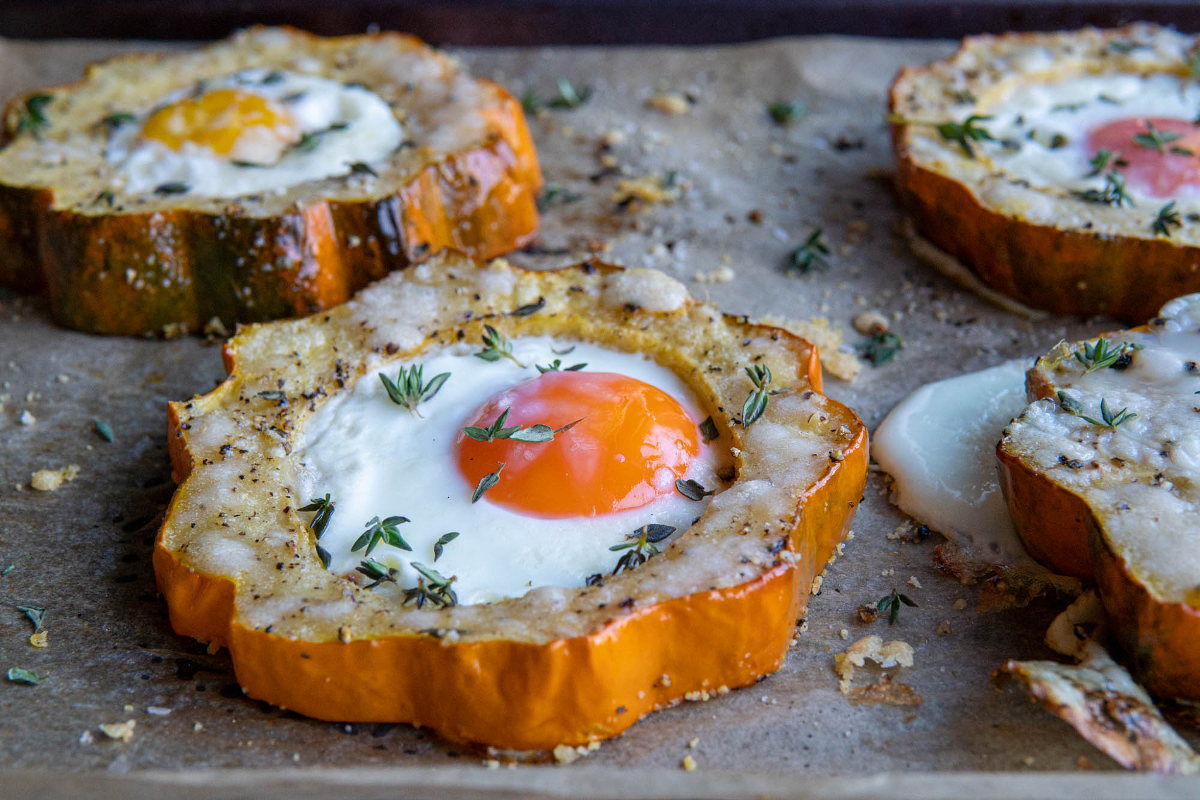 The classic egg in a hole is always a crowd-pleaser, so we spruced it up by swapping toast for nutrient-rich acorn squash.
Note that the macro calculations for this recipe were calculated using cut and seeded acorn squash, not the whole squash. Like pumpkins, acorn squash has a seedy core that needs to be removed. Those seeds add quite a bit of weight to the squash, so we weighed the squash after slicing and seeding it to make sure the macro calculations were correct.
Instructions
Preheat your oven to 425 F. Line a baking sheet with parchment paper. Set aside.
Cut both knobby ends off the acorn squash and discard. Cut the remaining squash into 4 rounds of equal thickness. Scoop out the seeds with a spoon and brush both sides of the squash with the olive oil. Generously salt and pepper, then arrange on the baking sheet and cook for 15 minutes or until fork tender.
Remove the squash from the oven and reduce the oven temperature to 350 F. Crack one egg into the hole of each squash. Add a pinch more of salt to each egg and sprinkle the Parmesan cheese over each squash ring. Return to the oven and bake until the egg whites are set but the yolk is still runny, about 8–10 minutes depending on how you like your eggs.
To serve, transfer each squash ring to a plate and garnish with fresh thyme leaves.
Recent Posts: