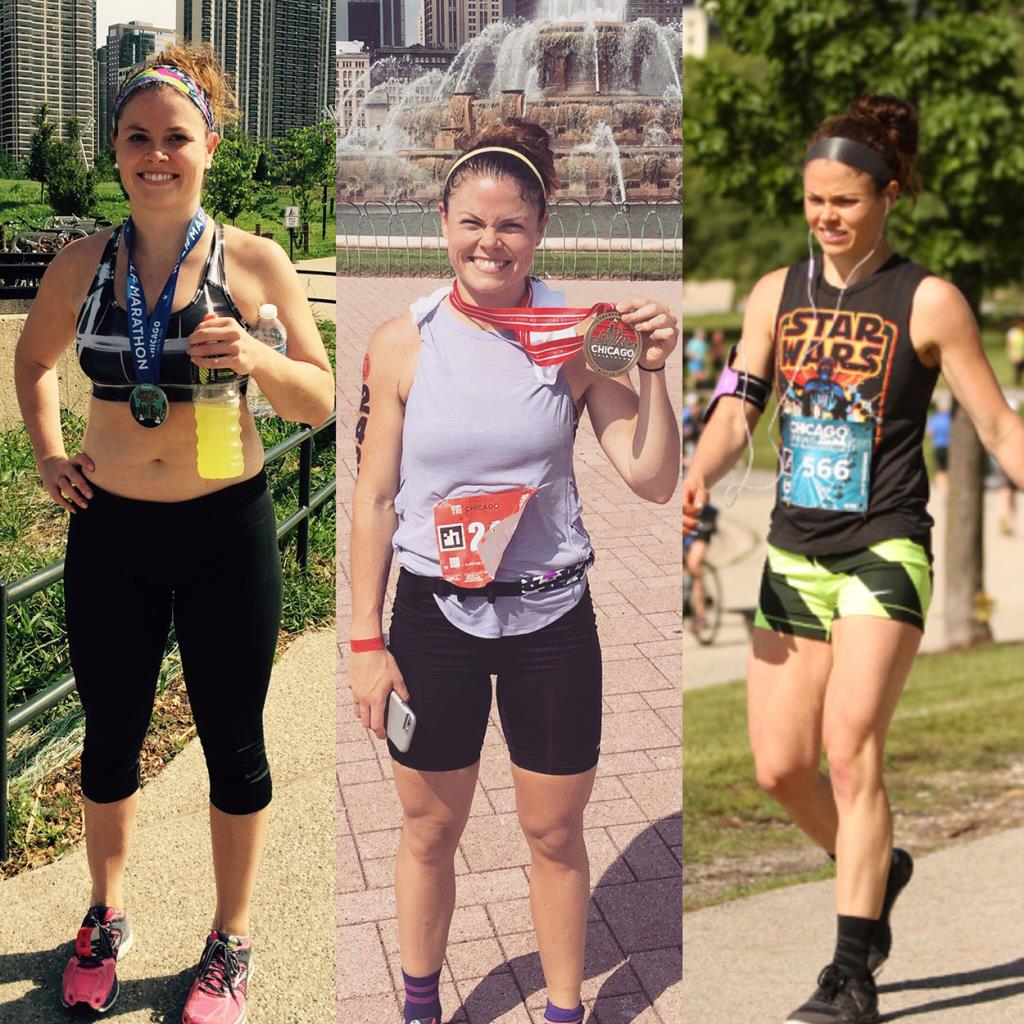 Goal
To lose body fat/lean out. To perform better and feel more energized during workouts.
Testimonial
Attached I have three pictures, all three from races I have done. It's not until I put pictures like this side by side that I can truly see the physical transformation I have made. However the physical transformation doesn't even compare to the mental transformation WAG has inspired inside of me. I am a completely different and 100% happier individual since starting WAG just over 1 year ago. I never thought I would still be on it a year later, but I cannot get away. My coach, Melanie, is amazing and we are still in the process of minor changes, preparing for my second triathlon ( !!! ) and finding my maintenance macros. This is more than just a nutrition program and I hope you realize the impact you have on people's lives, including my own. I didn't think this version of me, in so many ways, was possible to attain and I want to say thank you for creating a program to inspire this change. I know it's not only me that has experienced this. I have no words for what this program has done for me. I now understand food, how it works to fuel me, how to not let it consume my every thought in a negative way, how to not feel guilty for eating certain things, and how to just ENJOY it and consequently enjoy life. I have come to a place where I realize this is sustainable because it's not some crash/fad diet. It makes you understand nutrition. I have become so interested in it, that I am currently enrolled in the Precision Nutrition course :) Nutrition is fascinating. The picture on the left is July 2015 around 160 lbs. My first half marathon and about a year before starting WAG. The one in the middle is at the end of my first triathlon in August 2016, which was 3 months into WAG and that race was my original goal to complete when I signed up for WAG. I had lost about 13 lbs at that point (140.3 lbs according to my original excel spreadsheet ;) ). Picture on the right is May 2017, 30 lbs lost ( 128 lbs ) and almost crossing the line of my second half marathon. Even today looking at these pictures, it's still hard to believe. I never thought I would get here. Thank you for the support, knowledge, and invaluable LIFE LESSONS you have taught me. You have an amazing thing going here and I cannot tell enough people about it. I think I have referred around 10 current WAG members :)
Get Your Coach Today!