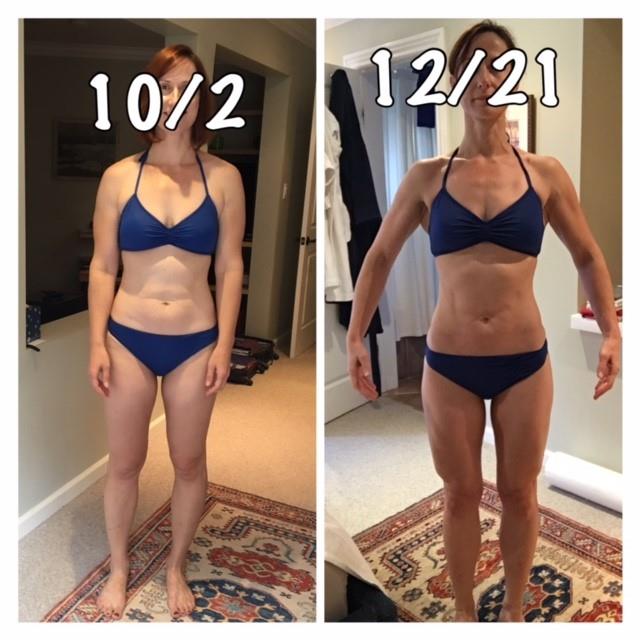 Goal
Get leaner while maintaining or building muscle and continuing to PR in Crossfit
Testimonial
I joined WAG because I had frankly gotten confused about my nutrition after experimenting with Paleo eating. I have a husband and two preteen kids who like bread and grains so paleo was hard for me to maintain and I also seemed to gain weight, probably because in reality I was eating a modified Paleo diet, which basically meant eating everything and too much fat!
WAG has been great because I'm finally confident in the path I'm on and know that if I plateau my coach will be there to help me adjust. It's like there's no more question mark around what to do (paleo? Zone? How much protein? How many carbs?) which has been a real relief.
Losing weight on the scale and having all of my clothes feel looser has been fun, but the real wins are how good I feel at the gym and how even my energy feels throughput the day (no wanting to pass out at 3pm any more). I truly believe that weight training and WAG are helping me stabilize my mood and hormones and helping me to feel better in my 40s than I ever have!
I always appreciate my coach's thoughtful responses to my weekly check ins and think the WAG framework for supporting personal accountability is great. Everything is in place for you to be successful you just have to do it. I think the mantra that people bring up on the Facebook group over and over again about consistency over perfection is so true. You don't have to be perfect every day, but you give it your best shot and stay consistent and you WILL see results.
Get Your Coach Today!