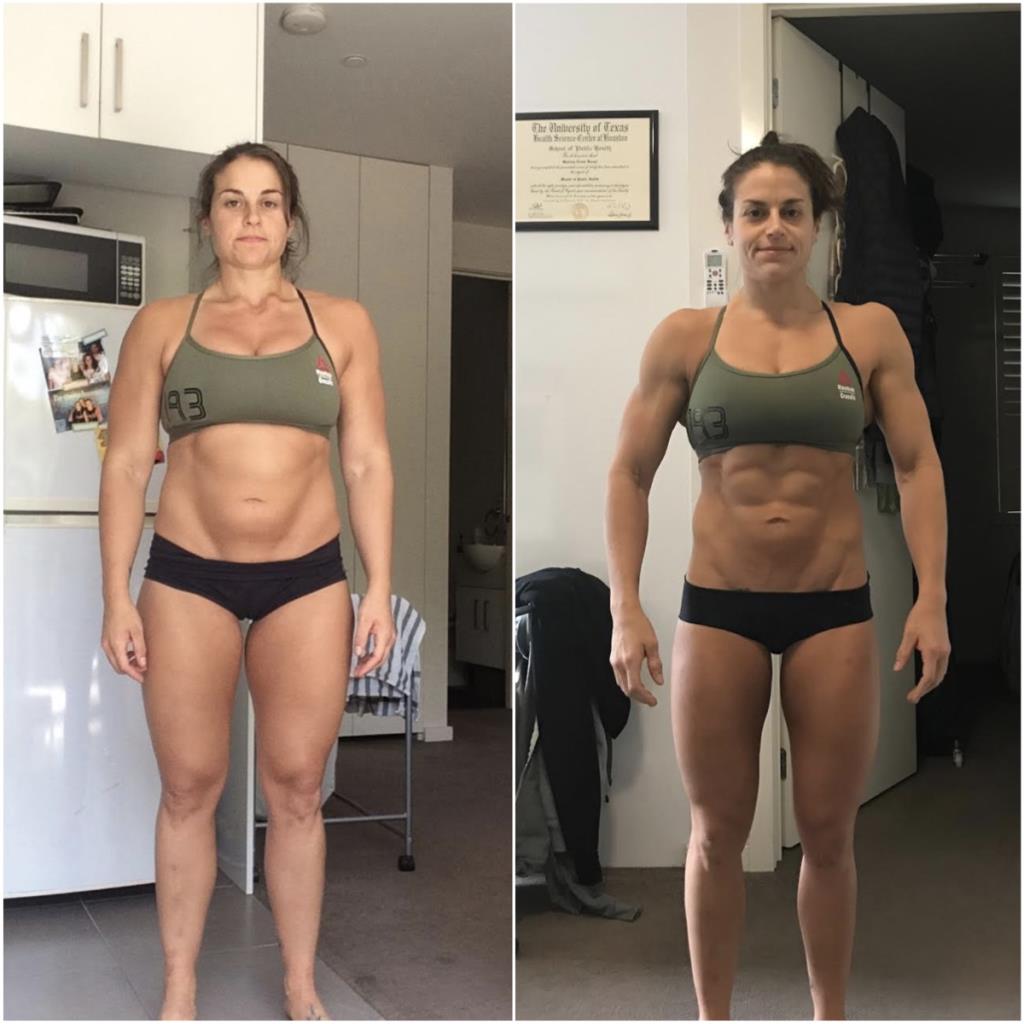 Goal
Lean up and improve performance
Testimonial
I can't even begin to describe how well this program has worked for me. I have been incredibly into fitness for a long time now, but my weight has always yo-yoed. The leaner I was the more miserable I was from depriving myself and being so strict. I would literally spend half the year while "in season" somewhat lean, but miserable and then the other half of the year enjoying life but feeling horrible about my body. It felt like a lose lose situation and that there was just something wrong with me. I tried to weigh and measure food, stick to chicken and veggies, shakes, paleo, cleanses, teatoxes, etc etc you name it. lol I thought I was making healthy choices and I was working out almost 3-4 hours a day but I completely did not look the part which was emotionally and mentally frustrating…not to mention I really thought my weight was holding me back from progressing in gymnastics and bodyweight movements.
In December I had finally had enough of my weight fluctuating and feeling like I was putting in so much work for so little reward so I signed up with WAG. The way this program was run was so perfect for me. For the first time I was not put on a food plan or told what foods I could and could not eat. It was completely up to me what I was going to put in my body. Tracking my food is almost like a game to me and actually really fun! I love coming up with different combinations of food every day and learning what is actually in the food I am eating. The coolest thing about WAG and flexible dieting is if I want something, I eat it and I never have to feel guilty. I just budget it into my day, enjoy it and move on. It's ironic though because the more freedom I have now in my diet, the more likely I am to make healthy choices anyway. It has been so eye opening to learn about what I used to think was healthy and how it is so far off from what I am doing now. My coach has been amazing. She's never made me feel crazy for any of my ramblings in emails and always says things that are so simple but hit so close to home. I made the decision to trust in her completely when I started the program (because clearly I didn't know what I was doing) and she has never steered me wrong. The results really speak for themselves.
I am leaner then I have ever been (and I literally manage to eat pizza and chocolate every weekend). I no longer correlate leanness to being miserable either. Its really incredible how much this has changed my entire outlook. I know tracking can be tedious and seem overwhelming for a lot of people, but I think it is such a small price to pay to feel this great about myself and my body every day. Plus my gymnastics is through the roof and I am still hitting all my strength numbers and PRing lifts. Ive gone to regionals on a team 3 times and the games once, but this is the first year I have qualified for regionals as an individual and I can't help but feel like my nutrition is playing a huge part in how well I am doing right now. Not only that, but finally not feeling like my body is the enemy has given me the confidence to accept the invite which is something I never thought I would do. I am so excited to keep finding out what I am capable of and so happy to have team WAG in my corner. :)
Get Your Coach Today!