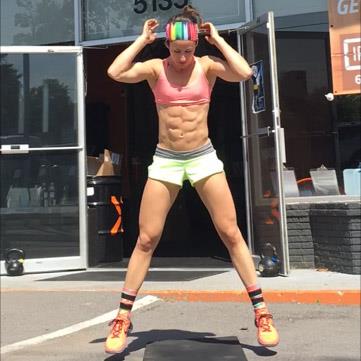 Goal
To improve body composition and athletic performance (lose fat, gain muscle, get faster and stronger).
Testimonial
I can't say enough about WAG and my fabulous coach (Taylor). The number of people I have referred (and have since joined) says a lot, but after years of trying to figure out the secret to looking and feeling the way I've always hoped to, I've found the answers through this program. I've counted macros before, but WAG really educates you about making smart choices and maintaining balance (mostly between eating quality foods and some indulgence). My 7 months with the program haven't been perfect. There were times during my cut when I thought I would never lift the heavy weights I used to be able to. When I first started my bulk, I has an issue with a medication that caused me to retain ridiculous amounts of water and my weight to fluctuate uncontrollably for weeks. Every time I was ready to give up -- or thought I needed to take drastic measures, Taylor was able to calmly talk be off the ledge and reassure me that things would eventually work out. She has always been right. I thought I would follow WAG for the minimum three months, get an idea of how the numbers worked, then do my own macro adjustments. Throughout this process, especially following the more difficult times, I've come to value and understand the importance of having an unbiased coach guide you through this process, whatever your goals are. I couldn't have done this alone... I still couldn't! These coaches not only know what's best for you, the want what's best for you, and mine has helped me stay positive and regain focus every time I've lost sight of the goal. Not only am I happy with the way I look, but my performance as a competitive athlete is better than it's ever been. Yes, I've gotten my gains back (and some), but without the excess body fat, my gymnastics is the best it's ever been, and I've developed a motor that doesn't quit. WAG has helped me become the total package. It's a game changer.
Get Your Coach Today!