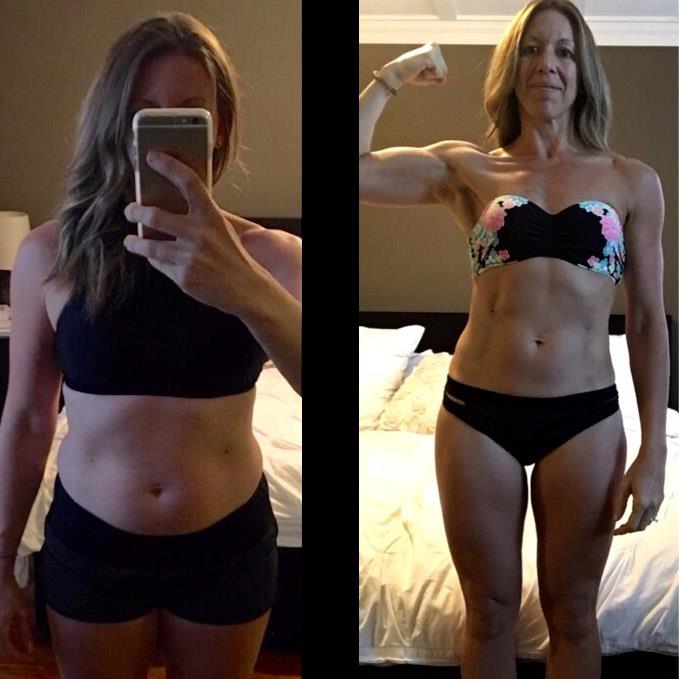 Goal
My main goal is to lose fat and improve my body composition so that it reflects the work that I'm putting in at the gym! Most importantly, I was looking for a program that would teach me what my body needs to properly fuel it, in order to improve and
Testimonial
I searched and searched for a nutrition program that would suit my goals. I have been able to commit to nutrition changes in the past, but I was really looking for a program that made sense to me scientifically, and could be incorporated into my life without feeling deprived. As a working mom, I also needed to be sure that preparing meals would be quick and easy. I knew that (aside from my chocolate addiction and maybe too much wine!), I was eating fairly "healthy" food, but all the hard work I was putting into the gym wasn't showing. My progress with bodyweight movements in the gym was very slow, and it was super frustrating.
I was so happy to find WAG, but I NEVER expected to get the results that I was seeing in everyone's progress photos (especially after having 2 kids). I just thought it was impossible for me/my body type. (I also didn't think I would ever share my "before" photo online, but I appreciate everyone else's bravery so much, and their progress inspires me every day, so I'm doing it!). Now, I'm 15 weeks in and thanks to my awesome coach, Hillary, who has given me tons of support, knowledge, and occasionally a tiny lecture, just when I needed it the most, I FEEL amazing – I am fitter than I have ever been and my body is reflecting it. I have incorporated way more variety into my meals, and am able to moderate my treats without feeling restricted or feeling like I am "cheating".
I want to be a good role model for my two girls and to me, part of this means living a healthy, active lifestyle, using food as fuel rather than a reward, and being able to treat myself without being extremely restrictive. I'm not done yet – I still have more to learn, and I'm so thankful to have found WAG!
Get Your Coach Today!