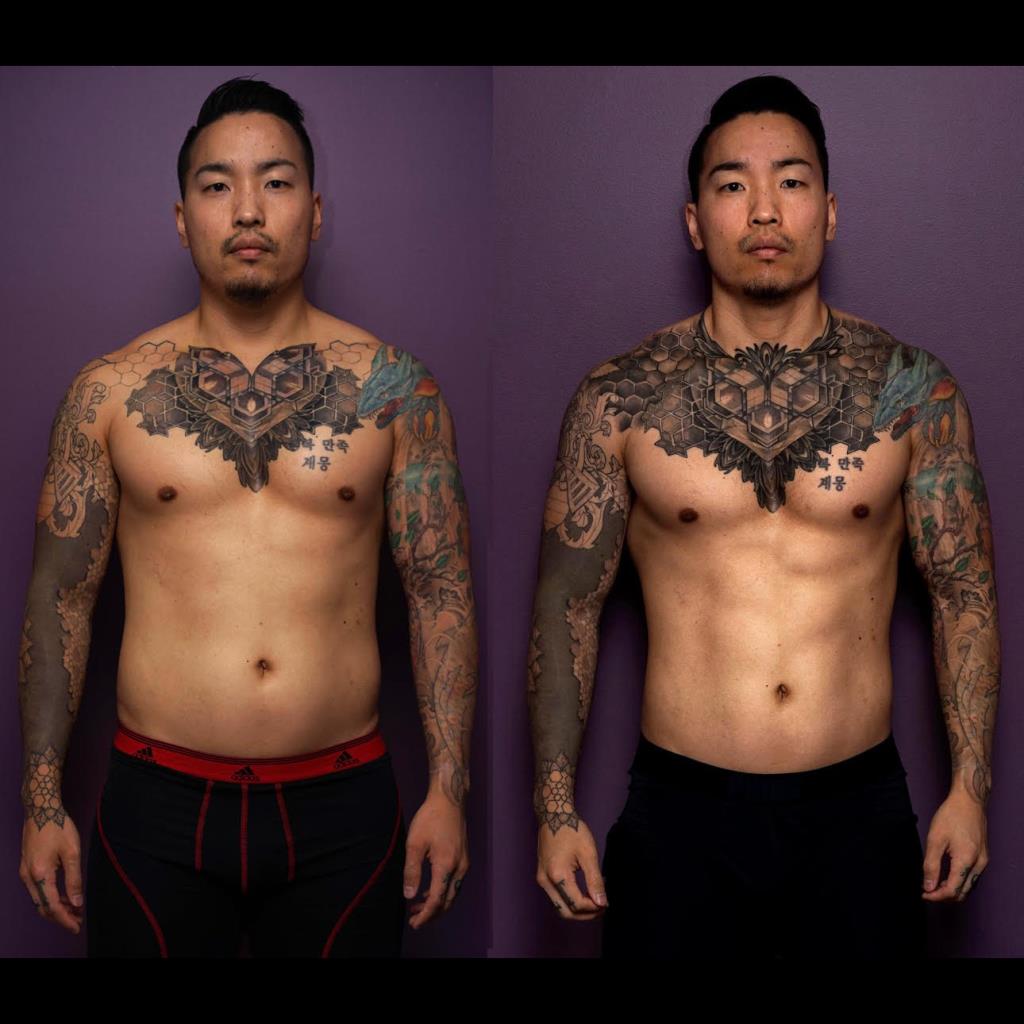 Goal
Get lean, around 10% body fat, increase capacity and engine in the gym and maintain strength and muscle mass.
Testimonial
I think I spent almost 6 months IG stalking the WAG account, gazing at all of the inspiring transformation photos, food posts and the countless high profile crossfitter endorsements. To be quite honest, before I started the program I thought the results people were posting were simply too good to be true. I did a bit of research and was familiar with flexible dieting and macro counting. I even tried to give it a go on my own with very little success. I also did quite a bit of research into all of the online nutritional remote programs and always came back to WAG as a program that seemed to really speak to my disposition and interests. So 3.5 weeks ago, with the support of my partner, I decided to take the plunge.
Here are the top 5 things I love about this program in no particular order:
1. Accountability
Many other online nutritional programs tell you how and when you should be eating, but they never explain why. This is precisely what separates WAG from the rest. It is the WHY that bestows 100% accountability to the person. It is the WHY that forces you to think about what your personal habits are, how and when you prefer to eat and how that works within the WAG program guidelines. It is the accountability that gave me a sense of freedom and confidence because I had to figure out how to divide my macros in a given day on my own. This was the toughest but most valuable process to learn when I started. Being able to account for your own macros and make them work for you rather than the other way around is what sets up everyone on this program for the best level of long lasting success in the end.
2. Flexibility
The WAG program is a truly flexible program. WAG approaches it's nutritional programs exactly the way they approach it's clients; individualistically. Many other online nutrition programs approach their clients and plans with an almost militant rigidness. Yes they are thorough and comprehensive, instructing you not only how often you need to eat, but precisely what you need to be eating at every single meal. On the surface I can see why this would be appealing to most, taking all of the guess work out and following an almost paint-by-numbers method. But for me I needed a program that could mold itself around my personal preferences and schedule, not the other way around. My girlfriend and I have a 7.5 month old baby boy so being able to plan my meals around raising a newborn simply couldn't have been done on any other program. On the WAG program I can decide when and where my macros go in a given day based on my personal lifestyle. I personally don't like eating large breakfasts and prefer to eat larger lunches and dinners and I rarely snack. On most other programs I wouldn't last a week. But on WAG this works beautifully for me and I continue to see results to my body composition.
3. Community
The WAG community has been one of the most supportive, inspirational and fun aspects of this program. We all come different walks of life but we all are connected by a commonality that has drawn us to WAG in the first place; empowerment. We all want to feel better about ourselves and we all want to strive for the best version of ourselves both mentality and physically. WAG spends an extra level of care and considerations towards the emotional side of nutrition. They understand that nutritional habits are so strongly linked to emotions and the psychology of a person. The community they have cultivated provides a phenomenal platform for emotional healing and catharsis. Many of us began WAG with lots of emotional baggage that has dug us into the holes we all started out in. Having the ability to share and talk with like minded people all striving for the same things is not only invaluable but paramount in the continued success for everyone on this program.
4. The Coaches
I feel truly fortunate to be a part of a community like WAG that has coaches that truly care. And I can see the feeling is mutual with everyone within the program and their relationships with their own coaches. We are all on the same team but there is also micro communities in the world of WAG championed by all of the amazing coaches in the program. I am Team Melanie and I feel tremendously program to call her my coach. And having the ability to request a coach that speaks to you is fantastic. I remember going through all of the bios of the coaches on the website and knew immediately that Melanie's background was a perfect fit for me. The coaches are the Jedis and we are the Padawans :D
5. The Trust and the Results
This program functions on a foundation of trust and open communication. I love the way the program addresses these two vital aspects of success on Day 1. It isn't all business for WAG, you are not just another number in their system and I have felt truly cared for and supported every single day and counting. By laying down a strong foundation of trust and open communication in the beginning, the WAG program runs like a well oiled machine because any bumps along the way are taken with grace and serious thought. And with this unconditional trust and support comes inevitable results, which is ultimately what makes this program as successful as it is. The countless inspiring transformations I continue to see posted is not only what keeps all of us coming back for more, but is also what continually attracts more and more people who are ready to making a permanent change in their lives.
Get Your Coach Today!