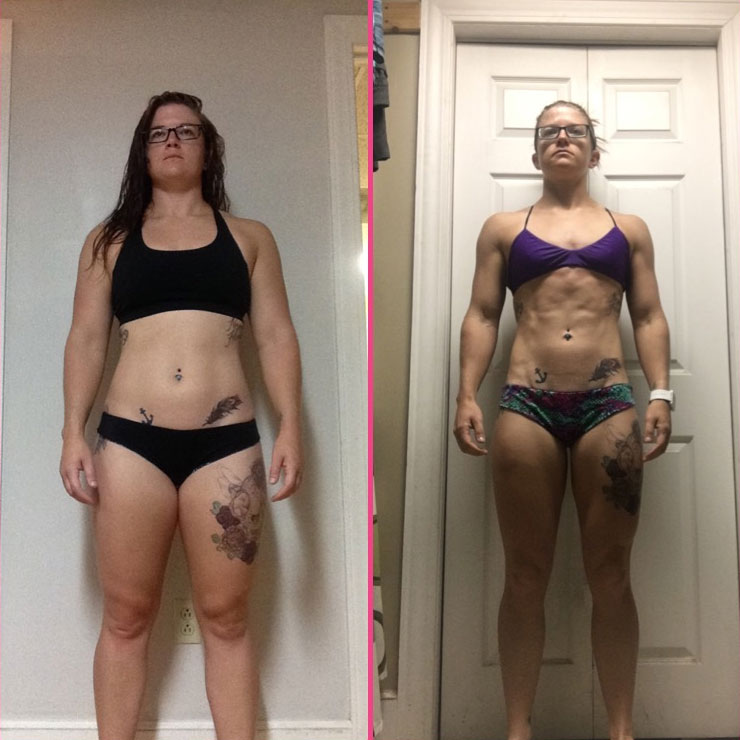 Goal
Cut down to the 69 kg class to compete
Testimonial
My initial goal was to cut down to the 69 kg class compete in a couple of meets and then I was unsure. After really thinking about my goals, I have decided along with my coach that I will cut a little more weight then reverse diet back up to be at the top end of the 69 kg class.
I have lost 23# since I started WAG 8 months ago and my performance in the gym hasn't suffered it has gotten so much better.
I was initially, very skeptical of counting macros. I had seen friends counting and they weren't seeing much progress. I kept seeing the advertisement for WAG on Facebook. One day my fiancé asked if I wanted to try it because I kept saying I wanted to drop a weight class or two, at the time I was in the 75+ kg class. So I started with WAG on August 17 and haven't looked back.
In the beginning, there were days were I felt overwhelmed with the weighing and measuring. I wanted to throw my hands up and say I quit. However, I am not a quitter and I am a planner by nature so planning my meals became fun. Playing with recipes to make them more macro friendly became fun. Food is fun. Personally, counting is so much more freeing than say Paleo or Zone. I can't be told that I can't have something or that is all I will want.
Not to mention my performance in the gym hasn't suffered. I finally got my Muscle Ups and my overall gymnastics have improved. I have gotten stronger during my cut which anytime you think about cutting weight you worry your performance will suffer. I am hitting PRs on my lifts at my new bodyweight and it's awesome.
Working with WAG has been amazing because of the accountability I feel with my weekly check-ins and my coach Taylor Gray is awesome. For anyone who is on the fence about starting with WAG. . . DO it!!! Sign up! You will not regret it. If you stick to the process, listen to your coach, trust them and be honest with them you WILL see the results you want.
Get Your Coach Today!