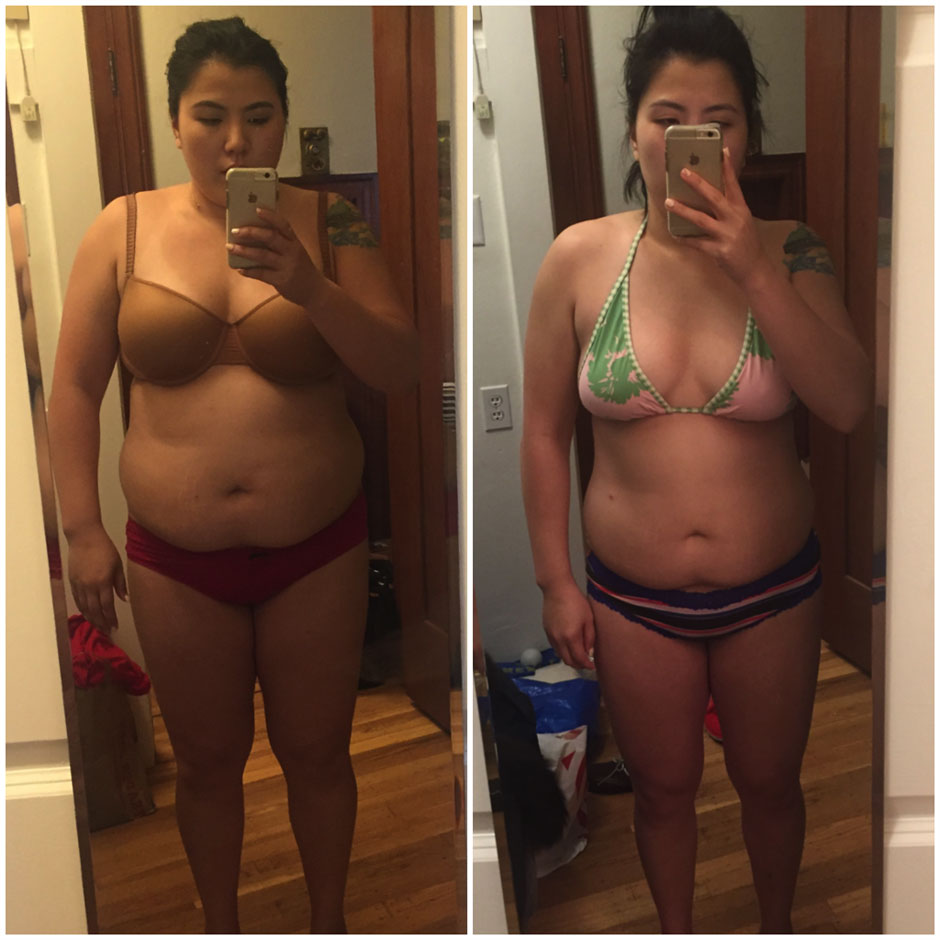 Goal
I think when I signed up for WAG I said my goal was to drop a weight class (I had been competing at the 90+kg in Olympic Weightlifting) and I also wanted to show outwardly all of the work I was doing. I didn't think my body reflected the amount of time and effort I put in in the gym. I had been CrossFitting for about 2 years at the time and was starting my transition into focusing just on Oly, which is the case now. I had done so many other nutrition programs prior to WAG, I first went to Weight Watchers at 16 and have done that program several times throughout the years. I also tried the templates from RP Strength, but just felt lonely and didn't really hold myself accountable cause no one would know that I cheated. I also worked for a short time with a local nutritional program that was also based on macros and nutrient timing. With that program, I didn't feel like they really cared about me or who I'm doing.
I had the goal to cut, I'm about 5 ft 6.5 in tall but was weighing 220 pounds. It was definitely the heaviest I'd ever been in my life, but I still was able to run and do CrossFit workouts. I have since lost ~39 pounds and without a doubt the healthiest I've ever been.
Testimonial
WAG has changed my life! I guess I always thought that to lose weight, you have to be hungry - the whole "calories in, calories out" theory and you need a caloric deficit. I am never hungry on WAG if anything it's hard some days to eat all the food! Hillary is also an amazing coach, I pour my heart out every week and talk about not just food and what I'm eating, but also my insecurities around training. I just recently recovered from a whole host of issues with my left leg which made it really hard to train. It was so hard to watch others training and getting stronger when I felt like I was losing all the work I put into it. Hillary was also the one that strongly suggested I go to a professional to look at my issues with my left leg. Up until that point, I thought I just needed rest and it would get better. But after weeks and weeks of not getting better, Hillary was the one that raised really solid points about going to a physical therapist. I can say, I would probably still be dealing with the pain if it wasn't for Hillary.

On the food side, Hillary and I talk a lot about how to interact with other people while on this program. I work at Google and everything you read about all the food is true. It was when I got on WAG that I decided that I could not eat at work anymore. There were just too many variables with the food that's prepared in the Cafes and the snacks that are provided. For a while, I thought that when my coworkers asked about my nutrition program that they were talking to me negatively. But Hillary made me realize that they're not passing judgment, but just wanted to know more. Also, she's helped me navigate going out to bars and either planning ahead for a drink or two or how to talk to others about why I'm not drinking and holding firm to that decision. Hillary is so supportive and I trust her entirely.

Get Your Coach Today!