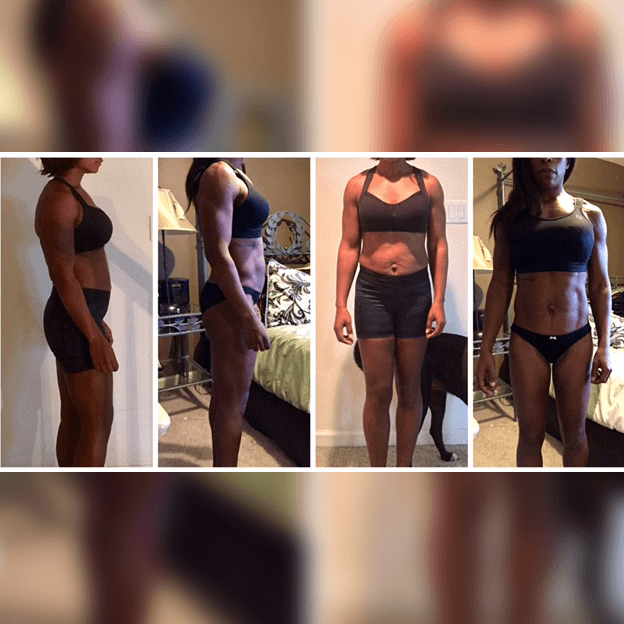 Goal
Recomp - lose weight, gain muscle after dieting strict paleo and low calories for over a year. Shift focus from weight loss to eating to improve my strength and fuel my body for Crossfit and weightlifting. Improve my relationship with food.
Testimonial
4 pounds lost. Weight loss wasn't an ultimate goal but some has naturally come off. Hydrostatic body fat readings for 12 weeks January to April showed -2 pounds lost overall, but -9 pounds fat lost and +7 pounds muscle gained. I'm eating more (and WAY more carbs) than I have in a very long time.
I am absolutely in love with this program. I have researched so many different options and for me WAG is perfection. I have never in my life been this strong and lean, and didn't realize that at 47 I could be this strong. I played sports all my life, ran 5 marathons and countless other distances as an adult, but always managed to gain weight, lose weight, gain it back again. I was afraid to eat too much, so I'd be overly restrictive for a while, than I'd throw it all out the window and eat too much of everything and gain a bunch of weight very quickly. WAG stands for everything that I now believe in so strongly: Eat to fuel your body. Eat real food. Make room for some treats when you feel like it. Balance what you're eating. Move your body. Enjoy life.
The one on one coaching is also HUGE. Coach Hayden is perfect for me. Always available to answer my questions, but he's hugely pragmatic, supportive and very matter of fact. He knows what he's talking about and can answer my most obscure nutrition questions. I feel like he's there for me no matter what, but the fact that I report in every week does help keep me focused.
The community is also a big part of WAG. It's a really great group of people who share ideas, success and challenges and support each other no matter what. We're all on similar journeys and it's great to know that we understand each other so well.
Bottom line is you can't go wrong with this program. It's a lifestyle for me at this point and I will be in it for the long haul.
Get Your Coach Today!