Calories
313
Fat
9 g
Carbs
47 g
Protein
11 g
Serves
5 (serving size = 176 g)
270 g farro, rinsed
15 g dried, mixed-variety mushrooms
800 g water
1 bouillon cube or 1 tsp Better Than Bouillon, any flavor
12 g butter
14 g olive oil
90 g shallots or yellow onions, sliced into 1/8-inch strips
10 g garlic (2–3 cloves), pressed or minced
1 tsp dried sage
60 g white wine (calculated as carbs using the WAG alcohol calculator)
55 g Parmesan, grated
1 lemon, juiced and zested
Salt and pepper to taste
Share:
Tags: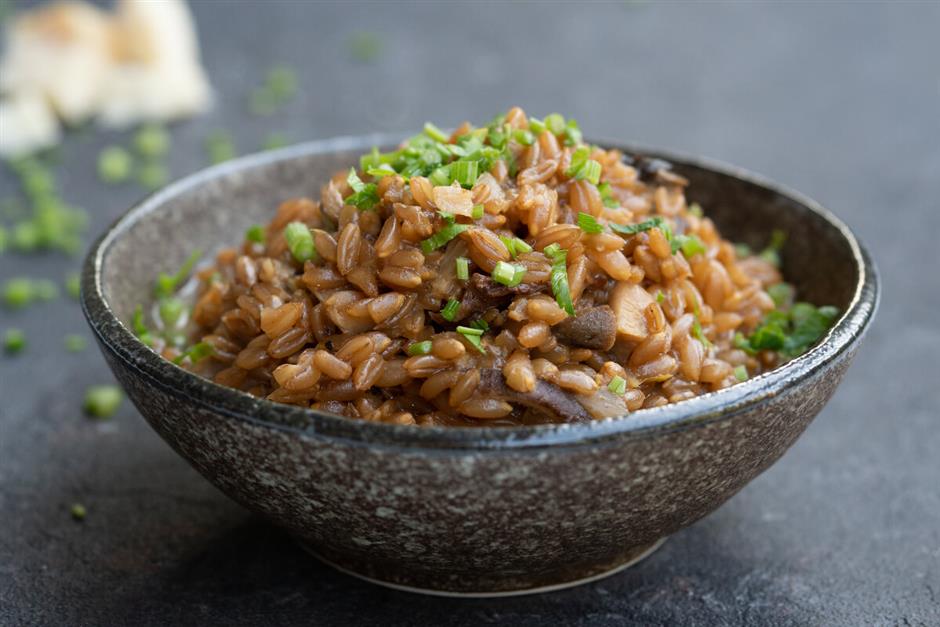 Umami-rich Parmesan cheese and dried wild mushrooms give this fiber-rich farro an intense, meaty flavor. Our wild mushroom farro is perfect for those of you who love lingering in the kitchen and creating restaurant-worthy dishes.
Though this recipe may seem more complicated than most WAG recipes, it's easier than you think and well worth the effort. Do yourself a favor and read through the directions before you start cooking. Otherwise, you might rush through the process and accidentally miss a key step, like keeping water that your mushrooms soak in. You'll want to use this flavorful mushroom broth to cook your farro.
Instructions
First, rinse the farro in a fine-meshed colander and set it aside to drain. Farro can be very dusty, and we don't want that dirt in our dish!
Combine the dried mushrooms and 800 g of room-temperature water in a bowl. Set aside to soak for 1520 minutes, or until the mushrooms are soft.
Meanwhile, slice the shallots (or onions) and mince the garlic. Heat the butter and olive oil in a large pot over medium heat and add the shallots and garlic to the hot fat. Let the shallots and garlic soften for 5–7 minutes, stirring occasionally so they don't burn.
Your mushrooms should be soft by now, but most dried mushrooms have some grit that will still need to be rinsed off. Use a fine-meshed colander to remove the mushrooms and strain the mushroom water into a saucepot. Put the mushroom water on the stove, dissolve 1 bouillon cube or 1 tsp of Better Than Bouillon and bring the broth to a simmer. (If you accidentally throw out your mushroom water, simply use any kind of stock instead.)
Rinse the soft mushrooms under running water to remove any grit. Then, give the mushrooms a squeeze to remove any excess water. (Mushrooms are like sponges, so you want them to soak up the flavors from the dish, not tap water.) Chop the mushrooms into bite-sized pieces and add them to the pot with the shallots.
Give the mushrooms a quick stir and add the white wine. Let the wine bubble and evaporate, then add the farro, hot mushroom broth and 1 tsp of dried sage. Turn up the heat and bring the farro to a boil, then reduce the heat and let the farro bubble for 20–30 minutes, or until most of the liquid has evaporated and the farro is cooked and chewy.
Before serving, add the Parmesan cheese along with the lemon juice and lemon zest. Add salt and pepper to taste (you may not need any salt since Parmesan cheese is salty).
Serve with your favorite protein.
Dried mushrooms can be found in any grocery store, usually by the fresh mushrooms. They are usually cheaper than fresh mushrooms and are good year-round, so they're great to keep on hand. Once you hydrate them in water, you can treat them like fresh mushrooms and use them in any dish. Look for any combination of porcini, chanterelle, black trumpet, shiitake, oyster, or crimini mushrooms.
Wondering what your macros might be? Wondering how to track macros in the first place? Check out our Macro Calculation Cheat Sheet & 18 Tracking Tips and Tricks for macro counting!
Recent Posts: