Calories
249
Fat
5 g
Carbs
35 g
Protein
16 g
Serves
5 (serving size = 369 g)
116 g smoked bacon, diced (the macros for this recipe were calculated using Wellshire Farms brand of bacon)
250 g yellow or white onion, finely diced
125 g carrot, peeled and diced
125 g celery, diced
1 tsp dried thyme
1 tsp salt
2 x 15 oz cans of white cannellini beans, drained
1 tbsp apple cider vinegar
2–3 sprigs of fresh sage
1,000 g (1 liter) of chicken or vegetable stock
30 g parmesan cheese, shredded
Juice of 1 lemon
Additional salt & pepper as needed
Share:
Tags: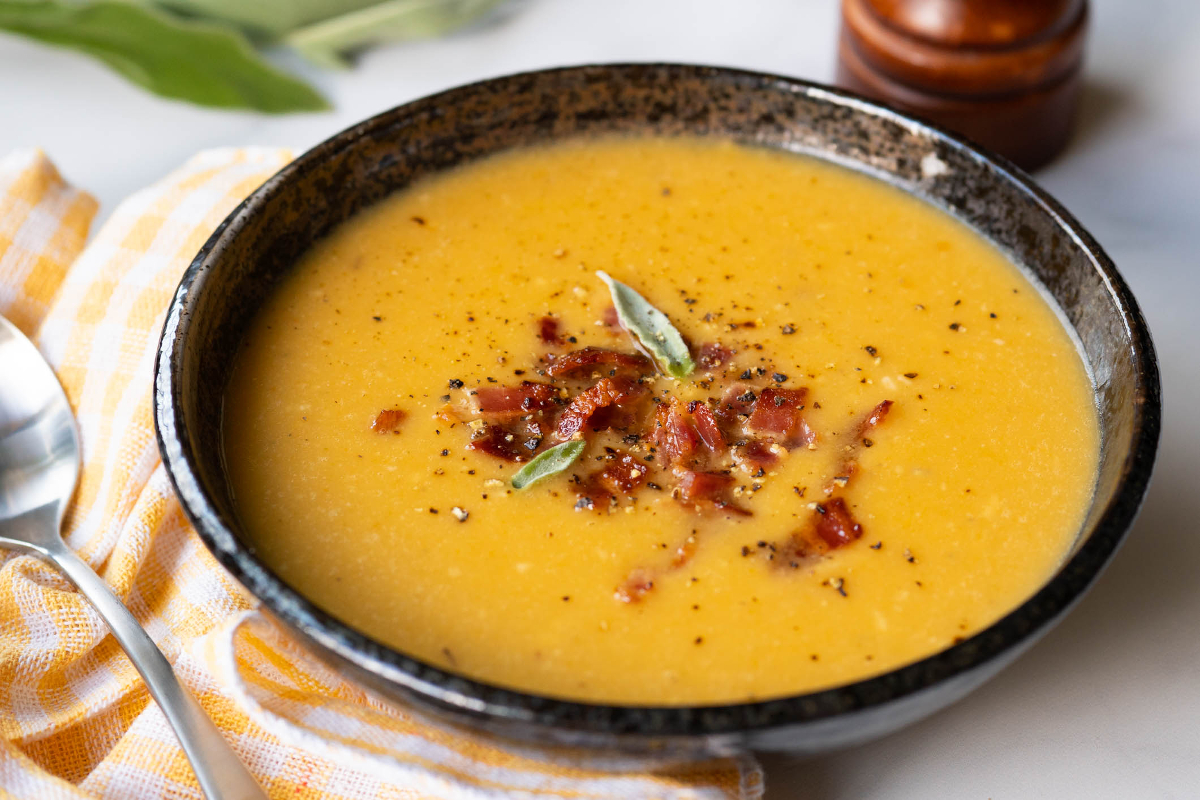 There's nothing better than a bowl of soup with smoky bacon when you're craving comfort food. Create this rich and creamy version by blending pantry-friendly white beans into a flavorful broth that will have you licking the bowl.
Instructions
Heat a large pot or dutch oven over medium heat. Add the diced bacon and cook until brown crispy, about 5–7 minutes. Remove the crispy bacon with a slotted spoon and leave it to drain on a paper-towel-lined plate.
Add the onion, carrot, celery, dried thyme and 1 teaspoon of salt to the leftover hot bacon grease. Let the vegetables cook until softened, about 5 minutes. Add in the apple cider vinegar and drained cannellini beans, fresh sage and stock. Bring the mixture to a boil, then turn the heat down and simmer for 15 minutes.
Remove the sprigs of sage. Then, in batches, ladle the hot soup into a blender and blend until smooth, taking care to only fill the blender halfway (hot liquids expand when blended and will result in a scalding mess if you overfill the blender). You can also use an immersion blender if you have one.
Stir in the Parmesan cheese and the juice of one lemon. Taste and add salt and pepper as necessary.
Portion the soup into bowls and sprinkle with bacon, taking care to weigh and portion the bacon so that each serving gets an even amount of garnish.
Store the remaining soup in the refrigerator or freeze.
Recent Posts: