Calories
370
Fat
10 g
Carbs
30 g
Protein
40 g
Serves
1 bowl
20g rice (dry)
50g egg whites
10ml soy sauce
Cracked black pepper to taste
30g mushrooms, sliced
20g onion, diced
35g corn kernels from can
50g broccoli, chopped
100g raw, peeled, tail-off shrimp (substitute any meat, just update the macros)
1 lean ham steak, diced into small cubes (this recipe uses Farmer John Ham Steaks)
5-8g oil (add more or less or use a non-stick pan and use none, just update the macros)
Cilantro or coriander to serve
Share:
Tags: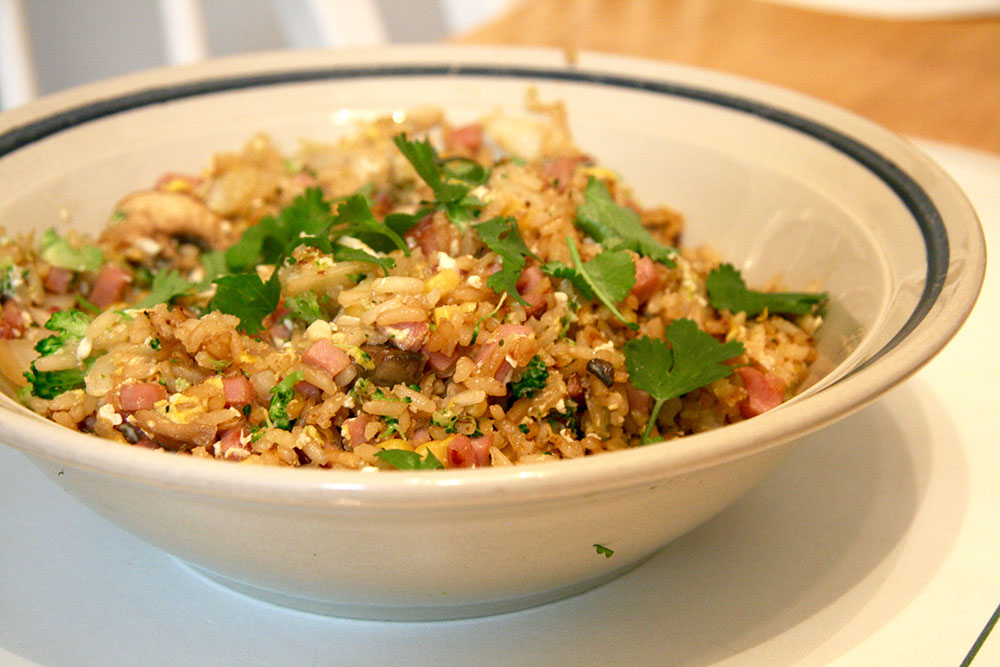 Join Rory McKernan, Crossfit Games host, and Tommy Marquez, Crossfit producer, as they show you how to make this perfect post-workout meal. The rice in this recipe gives your body those high-GI carbs it craves after a workout, while the shrimp, ham steak and egg whites are wonderful sources of lean protein!
Instructions
Cook rice (boil or steam)
Prepare ingredients and heat a pan or skillet on high
Add oil to the skillet and let it get hot
Add onion, shrimp and ham to pan and cook for 1 minute
Add rice and soy sauce, stir in quickly
Reduce temperature to medium heat and add remaining vegetables and cracked pepper
Cook for 5 minutes
Add egg whites and stir for a few seconds until cooked and take off heat
Serve!
Making a recipe that is usually high in fat or carbs meet your macro requirements isn't always a case of creating "macro hacks." Sometimes it's simply about being conscious of the ingredients, using less or leaving something out to make it work for you.
Recent Posts: