Calories
383
Fat
7 g
Carbs
50 g
Protein
30 g
Serves
6 (serving size = 328 g)
250 g vermicelli rice noodles*
115 g carrot, peeled and sliced into thin strips
115 g red pepper, seeds removed and sliced into thin strips
50 g (4 stalks) green onion, thinly sliced
425 g cooked chicken breast, shredded
100 g mung bean sprouts, found in the produce aisle
15 g fresh basil, roughly chopped
10 g fresh cilantro, roughly chopped
10 g fresh mint leaves, roughly chopped
50 g roasted and salted peanuts, chopped
1 clove garlic, minced or pressed
90 g lime juice or the juice of 2 limes
60 g rice vinegar*
90 g fish sauce*
50 g chili garlic sauce*
26 g drops liquid stevia
60 g water
Share:
Tags: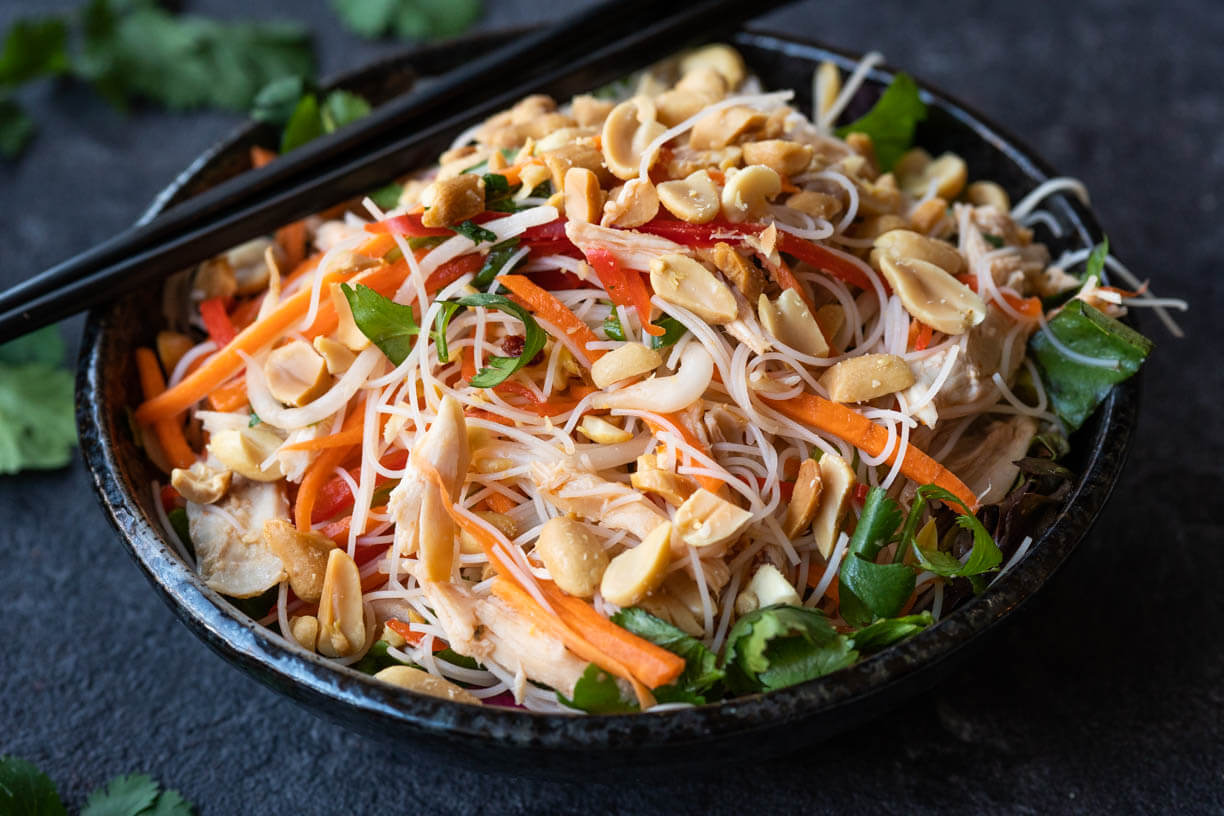 Gluten-free, low in fat and bursting with sweet and spicy flavor, this Vietnamese-inspired cold rice noodle salad with chicken checks every box on the macro-friendly meal prep checklist. Not only does one batch make six generous servings, but the only actual cooking you'll have to do is boil water.
Note that the ratios for this recipe were created with one 250-gram bag of vermicelli rice noodles in mind. If your bag of noodles is significantly more or less than 250 grams, simply adjust the recipe (and the macros) up or down as needed.
Additionally, all the starred ingredients in this recipe are common ingredients used in pan-Asian cooking. You'll be able to find all of them in the Asian section of your grocery store.
Instructions
Bring a pot of water to a boil. When the water is boiling, turn off the heat and add the rice noodles. Let them sit in the hot water until tender, about 5 minutes, then drain and set aside.
In a medium bowl, combine all the ingredients for the sauce and whisk until combined. Set aside.
Prep all the veggies. You can slice them by hand, shred them with a food processor or use the julienne attachment on a mandoline. Place them into the largest bowl you have along with the fresh herbs and bean sprouts.
Shred the chicken using two forks or your fingers and add it to the bowl. Then, add the rice noodles and sauce. Carefully toss the salad together to incorporate and serve with a sprinkling of peanuts.
Ingredient sources:
When you're looking for precooked chicken, avoid any fancy seasonings and stick to something basic like a rotisserie chicken or Trader Joe's Simply Roast Chicken Breast. Or follow our recipe for Instant Pot Shredded Chicken for quick and easy batch chicken.
Recent Posts: