Calories
168
Fat
8 g
Carbs
14 g
Protein
10 g
Serves
4
34 g tahini
1 tbs soy sauce
1 tbs mirin or aji-mirin (Japanese cooking wine)
1 tbs seasoned rice vinegar
1/4 tsp sesame oil
10oz package of frozen spinach*
200g edamame shelled
Sesame seeds, for garnish
Share:
Tags: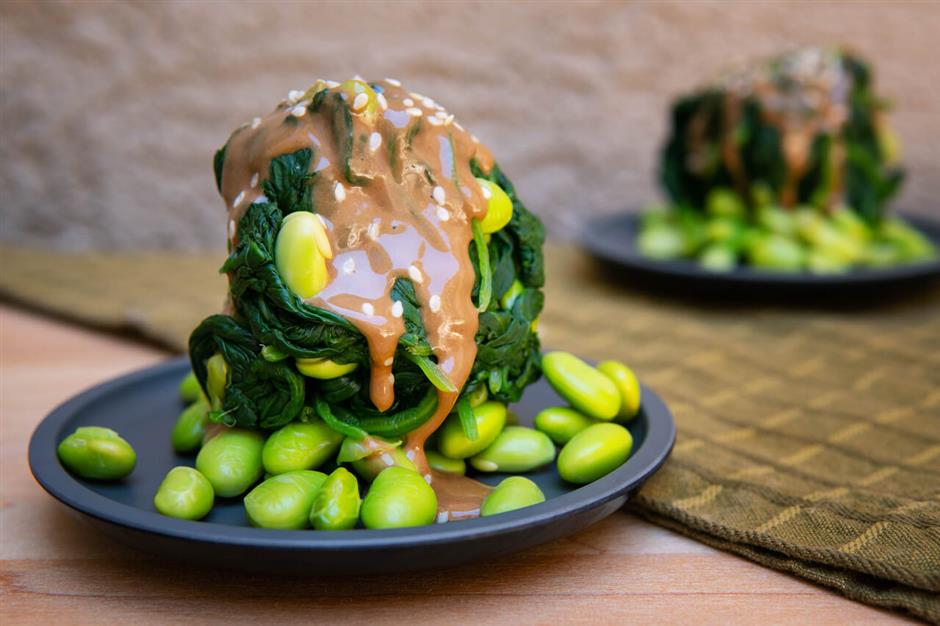 Spinach is the ultimate food to have on-hand when it comes to counting macros. It's full of nutrients and has a low macro count.
In this Japanese-inspired dish, we paired spinach with protein-packed edamame and a creamy tahini dressing for a high-protein (and vegan!) dish that is so satisfying it can stand alone as an entire meal.
Instructions
Defrost the spinach in the microwave according to package directions.
Meanwhile, combine tahini, soy sauce, mirin, rice vinegar and sesame oil in a blender or NutriBullet. Blitz until incorporated and creamy. Set aside.
When the spinach is defrosted, drain all the excess water by placing the spinach in a dish towel and wringing it out until all the liquid is removed. A 10 oz block of frozen spinach should yield 110 g of thawed, dried spinach.
Toss the spinach and edamame together with the dressing and serve. Top with sesame seeds.
You can use fresh spinach by blanching it quickly in salted, boiling water. When the water is boiling, quickly add the spinach and let it cook for 5-10 seconds, just until it shrinks and turns bright green. Immediately remove from the boiling water and place it in the ice bath to cool. When all of the spinach is blanched, drain the water and squeeze out the excess liquid until you're left with small balls of cooked spinach.
To keep your meals vegan-friendly, check out our list of vegan protein sources!
Recent Posts: