Calories
155
Fat
3 g
Carbs
24 g
Protein
8 g
Serves
8
1 package of Trader Joe's steamed lentils or 1 lb cooked lentils
300 g white or yellow onion, peeled and cut in quarters
1 clove of garlic
1 small can (5.5 fl oz) tomato paste
1 standard can (14.5 fl oz) tomato sauce
4 oz red wine*
1 6 oz jar of sliced mushrooms, in liquid, like Green Giant brand
1 tsp dried oregano
1 tsp dried thyme
2 tsp dried rosemary
½ tsp ground cumin
1 tsp kosher salt
Fresh pepper to taste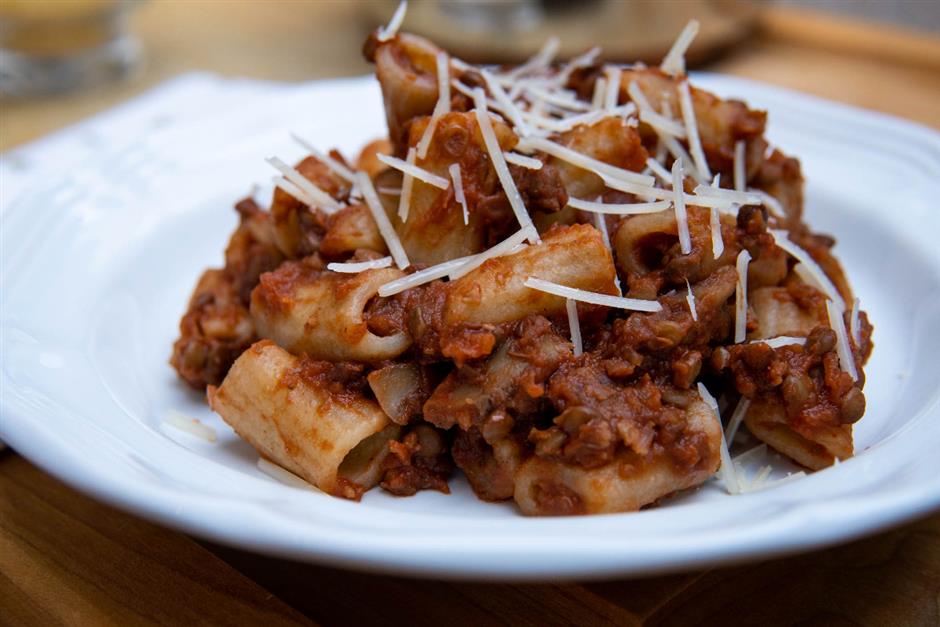 This rich bolognese comes together in under 30 minutes, but tastes like a professional chef gave it hours of attention.
The vegan factor? Lentils replace the "meat" in this sauce, but any meat substitute will work. Pair it with your favorite high-protein pasta and you've got a vegan meal that the whole family will enjoy.
Instructions
In a food processor, pulse the onion and garlic until the onion is finely minced and a little watery.
Warm 1 tbsp of olive oil in a large sauce pot over medium heat, then add onion mixture, cooked lentils, tomato paste, tomato sauce, red wine, jar of mushrooms (including liquid), oregano, rosemary, cumin, thyme, salt, and pepper.
Stir to a combine and bring to a boil, then cover with a lid and reduce the heat to low. Let the sauce simmer for at least 20 minutes.
Serve with your favorite pasta.
*The macros for the red wine were calculated as fat, thanks to the WAG Alcohol Calculator.
Still want help tracking the alcohol you add to your food mixtures? Enlist the help of a certified WAG one-on-one nutrition coach now! Sign up here.
---
You Might Also Like