Calories
34
Fat
2 g
Carbs
2 g
Protein
2 g
Serves
7
125 g 2% Greek yogurt
15 g (1 tbs) Worcestershire sauce
13 g (2 large) garlic cloves
10 g Dijon mustard
15 g lemon juice
17 g anchovies packed in salt & olive oil (about 4 fillets)
10 g Parmesan cheese, grated
5 g olive oil
Generous grind of fresh black pepper
Share:
Tags: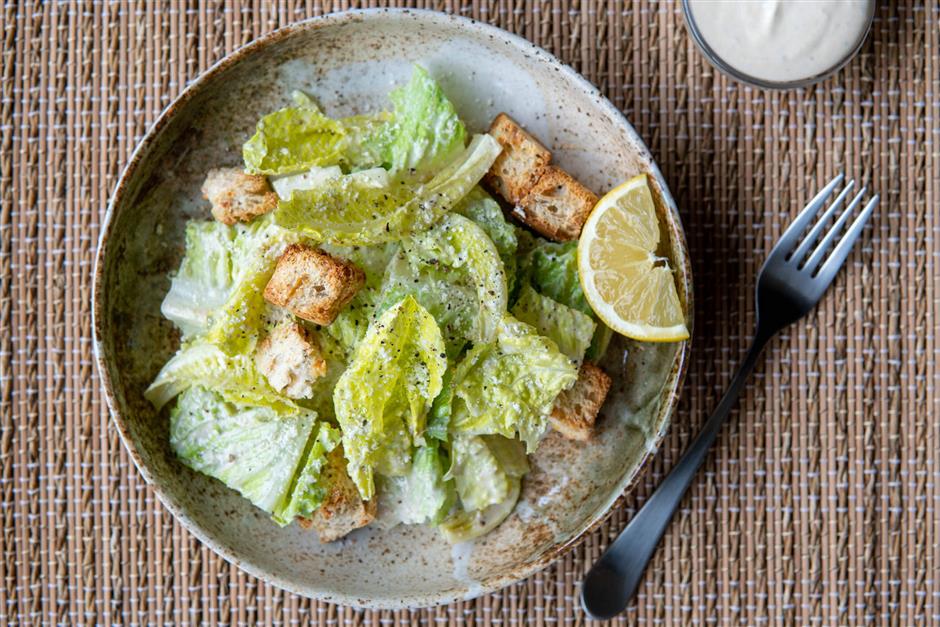 Every WAGger's journey comes with the devastating knowledge that some of life's most delicious condiments, like salad dressings, come with hefty macro price tags. Caesar dressing is particularly tricky. Bottled "light" versions are often not so light, or they have a long list of ingredients that rival a science experiment (and simply don't taste very good).
The next time you're craving a creamy, salty, garlicky Caesar salad, whip up a big batch of this Greek yogurt-based recipe. Don't be afraid of the anchovies—they're the key to an authentic Caesar dressing and will give you the flavor you're looking for. Also, take the time to blanch the garlic so you get garlic flavor without the garlic sting.
Instructions
Place the peeled garlic cloves in a small saucepan and add enough cold water to just cover the cloves. Place the pot over high heat and bring the water to a boil. As soon as the water comes to a boil, strain or spoon out the garlic and drain the hot water. Return the garlic to the pan and repeat the process one more time, for a total of two blanches.
When the garlic is blanched, add it to the bowl of a food processor along with all the other ingredients and pulse to combine. Taste and adjust the seasoning as desired.
Serve with chopped Romaine lettuce and croutons, if desired.
This guide is jam-packed with everything you need to know about nutrition.
From tracking macros to meal ideas.


Recent Posts: