Calories
332
Fat
16 g
Carbs
11 g
Protein
36 g
Serves
2 (serving size = 324 g)
375 g tilapia or other white-fleshed fish fillets (thawed, if frozen)
45 g (1/2 a bunch) fresh parsley, roughly chopped
1 clove garlic, pressed or chopped
22 g olive oil
475 g fresh tomatoes, peeled
1/2 tsp tomato paste
salt & pepper
Share:
Tags: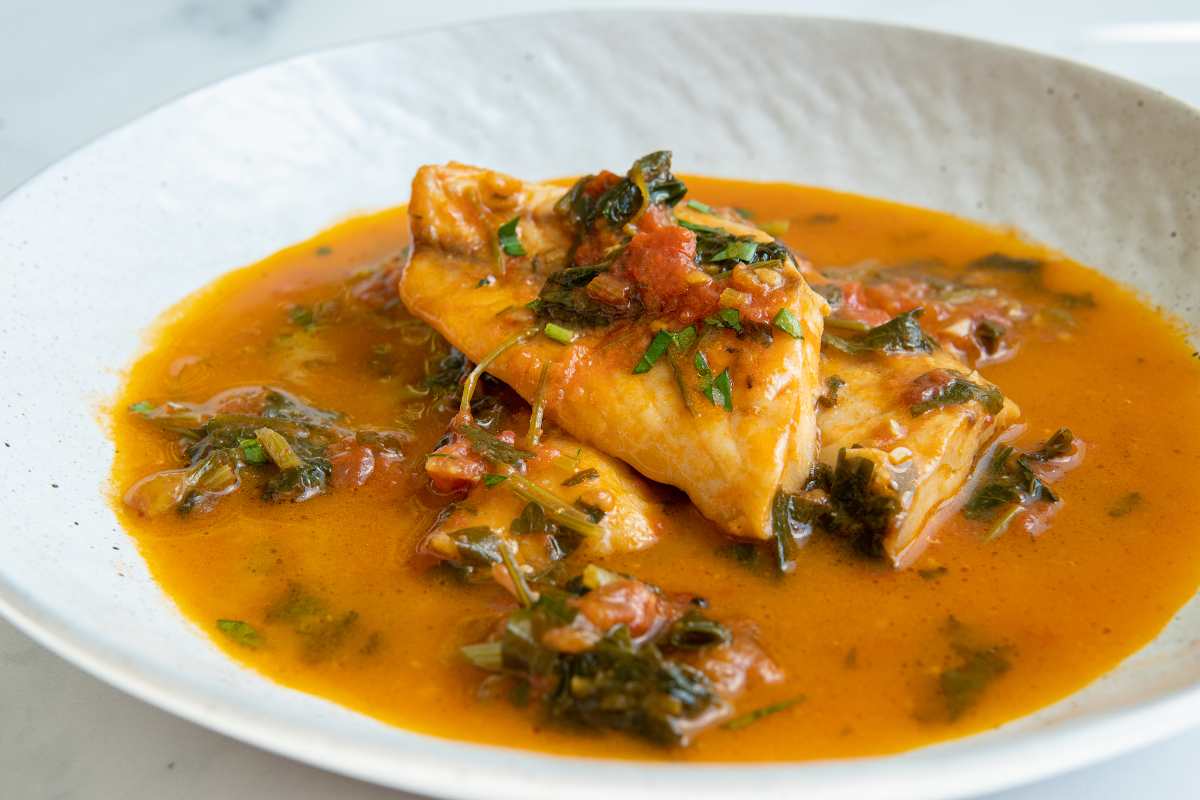 If the idea of cooking fish at home seems daunting, we guarantee this tilapia in tomato sauce recipe is an easy way to whip up a macro-friendly, restaurant-style dish at home.
Like most authentic Italian recipes, the trick to creating a silky tomato sauce starts with fresh peeled tomatoes. If that seems intimidating, don't worry. We'll walk you through how to get there, but if you want to save yourself from cleaning another pot, you can opt to keep your skins in the sauce.
Instructions
To peel the tomatoes: Bring enough water to a boil in a pot big enough to submerge all of your tomatoes. Use a sharp knife to cut a 1-inch-wide X into the bottom of your tomatoes, slicing just deep enough to pierce the skin.
While your water is coming to a boil, fill a mixing bowl with a lot of ice and a little bit of water to create an ice bath. When the water is boiling, drop the tomatoes into the hot water. Let them sit for no more than a minute, then using a spoon or tongs, carefully remove the tomatoes and plunge them into the ice bath. Remove them once they're cool and peel off the skin. Chop the tomatoes into chunks and set aside.
To make the fish: Heat a frying pan large enough to hold the entirety of your fish and tomatoes over medium heat. Add the olive oil, and when it's hot, add the chopped parsley and garlic. Be careful—the oil might splatter when the cold, fresh parsley hits the hot pan!
Fry the parsley and garlic for a minute. Then add the chopped tomatoes, tomato paste, and a good sprinkle of salt and pepper. Stir the tomato mixture and allow it to simmer for a few minutes.
When the tomatoes have released some liquid, add your fish fillets and spoon some of the tomato sauce over the top. Turn the stove down to medium-low heat and cover the frying pan with a lid or aluminum foil. Let the fish simmer for 10 minutes or until cooked through.
Serve with crusty bread or over rice.
The thinner your fillets of fish, the quicker they will cook. If you notice your fish cooks in a few minutes but still want to allow time for your sauce to thicken, remove the fish from the sauce and let the sauce simmer, uncovered, until it thickens to your liking. Return the fish to the pan to warm through and serve.
Recent Posts: