Calories
300
Fat
12 g
Carbs
16 g
Protein
32 g
Serves
4
35 g World Foods Thai Green Curry Paste (available in grocery stores)
450 g Chicken breast, skinless, raw and sliced
80 g White onion, sliced
1 Chili, sliced (optional)
2 Garlic cloves, raw and peeled (minced garlic is fine in a pinch)
200 ml Coconut milk (half a can)
370 ml Carnation Low Fat 2% Evaporated Milk (a whole can)
100 g Broccoli, chopped, raw
100 g Optional vegetables or fruits (beans, peppers, mushrooms, tomatoes, pineapples, etc.)
Coriander or Cilantro to garnish
Share:
Tags: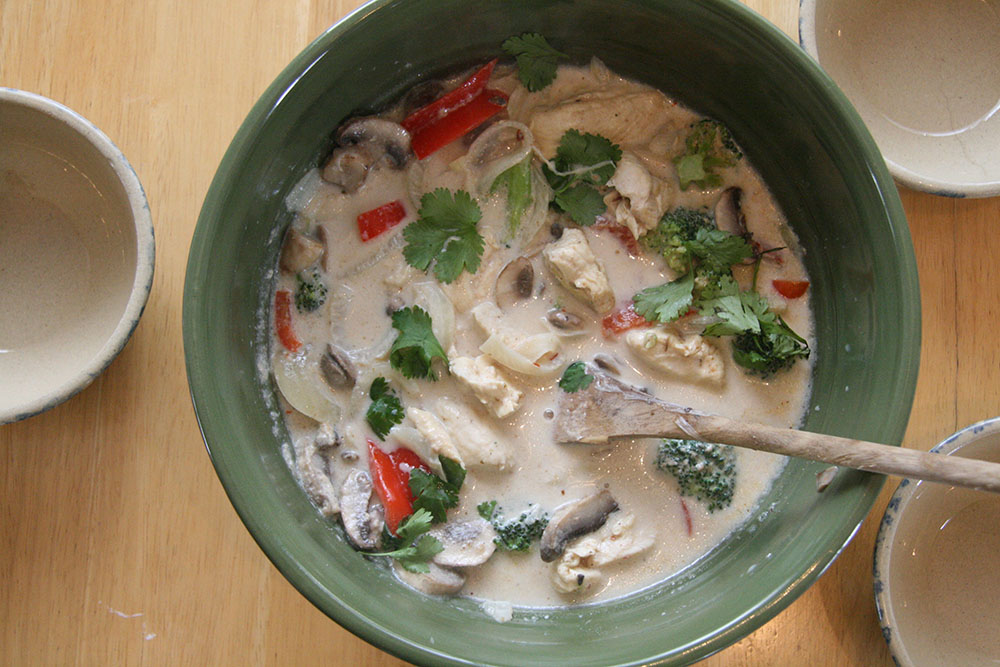 If you're a lover of Asian curries you know that reaching your macros with a curry dish is a no-go zone. Traditional curries are intensely flavorful but extremely macro dense: coconut milk, butter, lots of bread and rice etc. Just thinking about those ingredients made my mouth water. Sugar, spice and everything nice! I had to find a way to create Thai Green Curry for a fraction of my macro money, and I did!
Try this out: These ingredients and their brands are customizable just make sure that you track YOUR ingredients! The dish stores for a few days and can be frozen, too.
Instructions
Turn a non-stick saucepan, large pot or electric fry pan to high heat. Once hot, add the green curry paste, onion, garlic and chicken breast. Stir to evenly coat the chicken and let it brown.
Stir in the coconut milk and evaporated milk for 1 minute.
Add the chili and vegetables and let sit until the vegetables are cooked but not too soft.
Serve! If you want to serve the curry with something - go for it! Rice, cauliflower flower rice or even mashed potatoes all go deliciously! Just ensure you adjust the macros.
Recent Posts: