Calories
189
Fat
5 g
Carbs
21 g
Protein
15 g
Serves
1
1 whole egg (about 50 g)
80 g sweet potato
75 g zucchini
1/2 tsp salt
1 small garlic clove, minced
1/2 tsp ground cumin
1/2 tsp smoked paprika
¼ tsp cayenne
Fresh cracked pepper
Share:
Tags: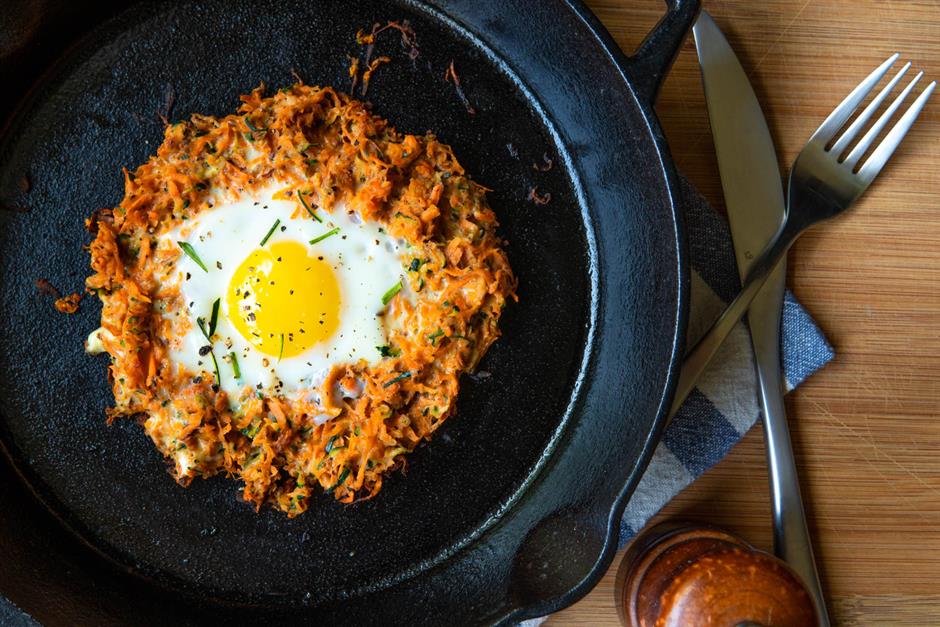 Whether you're entertaining for brunch or just want to mix up your breakfast routine, these sweet potato and zucchini eggs in a nest will delight your guests and your taste buds.
The key is salting and draining the veggies of excess moisture, so you get a little crispiness during cooking.
Instructions
Grate the sweet potato and zucchini into a bowl, using the largest holes on your grater. Toss the sweet potato and zucchini with 1/2 tsp of salt, and let sit for 10 minutes to draw out extra liquid.
Drain the sweet potato and zucchini mixture and, using your hands, squeeze out as much of the excess liquid as you can.
Place the drained sweet potato and zucchini in a dry bowl and add the minced garlic, cumin, cayenne and smoked paprika. Toss to combine and set aside.
Spray a frying pan with cooking spray and over medium-high heat arrange the sweet potato and zucchini mixture in a ring about 5 inches in diameter, making sure to leave a 2-inch hole in the middle.
Pour the egg whites into the hole and let them spread out underneath the ring to help bind the veggies together. Crack the egg into the hole and cover the pan with a lid to steam the egg, about 4–5 minutes, or until egg whites are opaque and the yolk is to your liking. Enjoy!
For maximum crispiness, use a cast iron pan. Want to put your leftover sweet potatoes to use? Try our recipe for sweet potato brookies, or join Team WAG to get your own coach and a community of people with great ideas for recipes!
Recent Posts: