Calories
245
Fat
5 g
Carbs
14 g
Protein
36 g
Serves
6 (serving size = 375 g)
180 g carrots, peeled and diced into 1/4-inch chunks
180 g celery, diced into 1/4-inch chunks
330 g yellow onion, diced into 1/4-inch chunks
10 g garlic (2 cloves), minced
1 tbsp salt
1 tbsp ground coriander
1 tbsp paprika
2 tsp black pepper
1 tsp ground cumin
1/2 tsp cayenne
Pinch of cinnamon
740 g ground turkey breast
500 g chicken stock (2 cups)
1 15 oz can cannellini beans, drained
1 15 oz can sweet potato puree
1 tbsp fresh thyme leaves
10 fresh sage leaves, roughly chopped
60 g (1/4 cup) heavy cream
1 lemon, juiced
Olive oil or canola spray
Share:
Tags: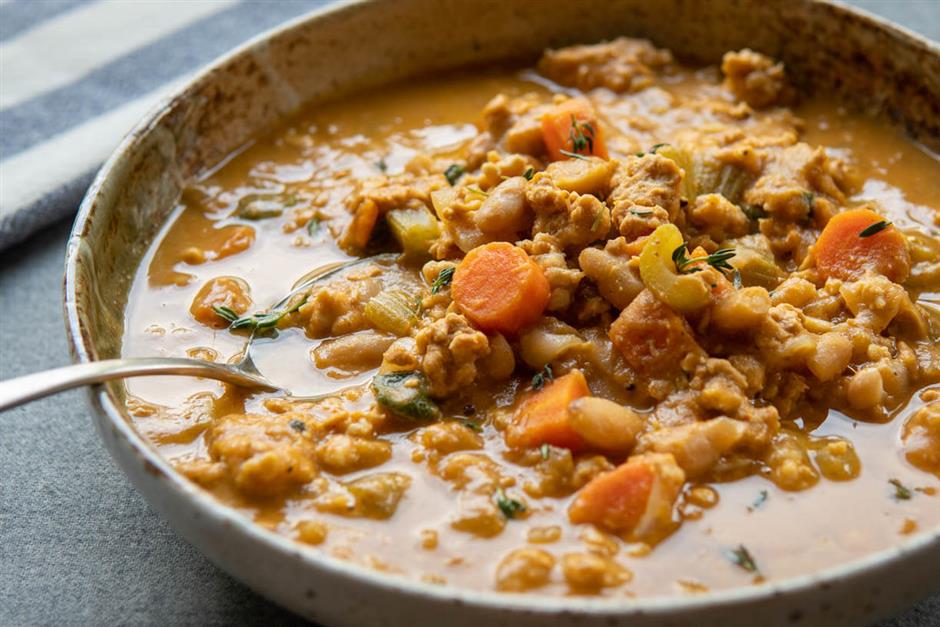 When cozy fall nights call for a hearty macro-friendly meal, look no further than this easy sweet potato turkey chili. Because this recipe's base is so naturally lean, we are able to boost flavor and satiety with a little heavy cream. If you're dairy-adverse, sub heavy cream with some full-fat coconut milk. Just don't forget to adjust the macros!
Instructions
Heat a large pot over medium heat and generously spray it with cooking spray. Chop the carrots, celery, and onion and add them to the hot pot. Sprinkle the veggies with 1 tablespoon of salt and let them sweat until they begin to soften about 5 minutes.
Add the garlic to the pot along with all the spices. Then add the ground turkey, breaking it up into bite-sized chunks. Add the chicken stock, drained beans, sweet potato, and fresh herbs to the pot. Bring the chili to a boil, reduce to a simmer, and cover for 20–30 minutes, or until the turkey is fully cooked.*
When the turkey is cooked, stir in the heavy cream and squeeze in the juice from 1 lemon. Taste and adjust the seasonings (you'll probably need more salt!). Eat or freeze within 1 week.
This recipe gets better over time, so feel free to let the chili simmer for longer than 20–30 minutes to let the flavors meld. You can also do it in a slow cooker. Simply add all the ingredients except the heavy cream and lemon juice to the pot, let the slow cooker do its job, and then stir in the heavy cream and lemon juice before serving.
Recent Posts: