Calories
280
Fat
16 g
Carbs
31 g
Protein
3 g
Serves
3 (serving size = 120 g)
3 small (no more than 130g ea) Japanese sweet potatoes with reddish purple skin and white flesh—also sold under the name satsumaimo, murasaki, and sometimes, Oriental
100g dark chocolate, broken into chunks
8g coconut oil
10g chopped peanuts (optional toppings)
10g white chocolate (get the real stuff, not white chocolate chips or chunks, as white chocolate chips don't melt well and therefore, won't drizzle.) (optional toppings)
Share:
Tags: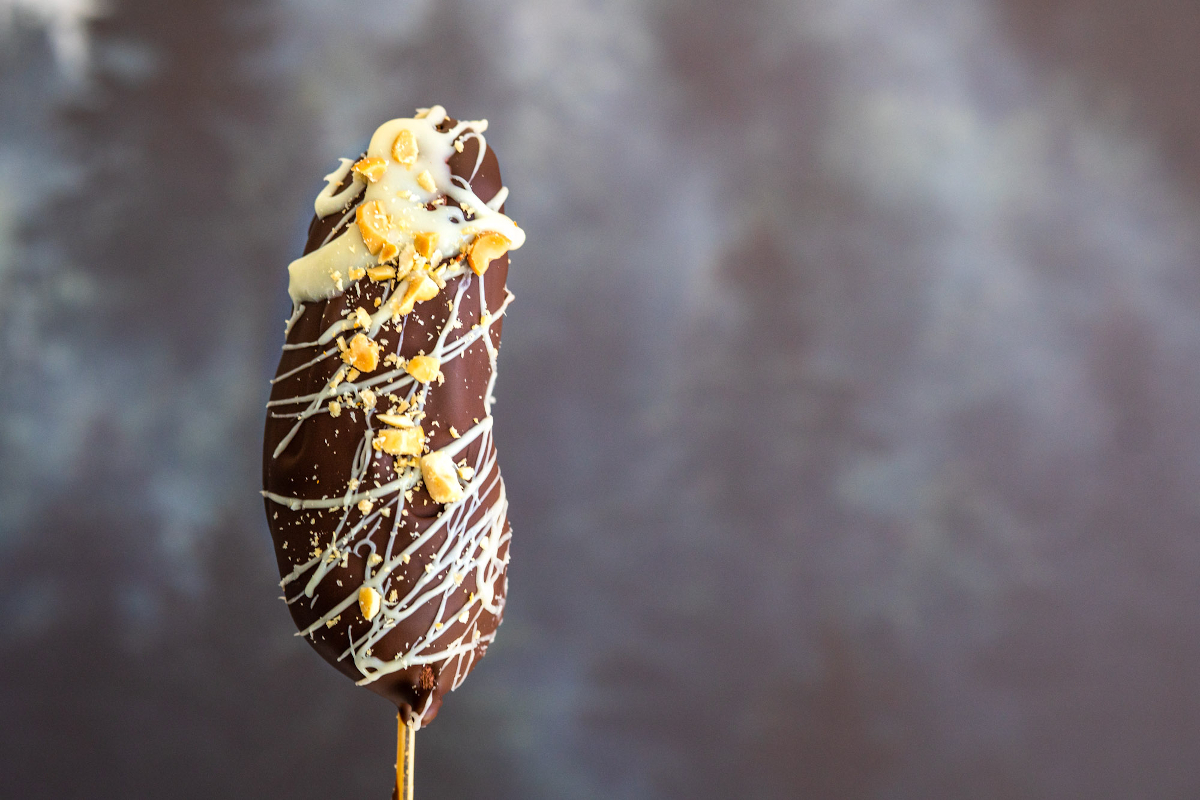 Hear us out: frozen sweet potato "Magnum" bars. It all sounds like an oxymoron, but with the right variety of sweet potatoes, you've got yourself a creamy, cool summer treat with a crisp chocolate shell.
But why?
If you've made our WAG Sweet Potato Cookie Dough, you already know the wonders of roasting Japanese sweet potatoes (also known as satsumaimo or Murasaki) until they're soft and caramel-y. Combined with chocolate, they make for a wonderfully sweet and satisfying treat that's full of fiber, nutrients, and complex carbohydrates—with little added sugar.
Knowing how well Japanese sweet potatoes mash up with chocolate, we wondered, why not pop them in the freezer for a little popsicle action? When frozen, roasted Japanese sweet potatoes take on a custard-like texture with a nutty sweetness reminiscent of ice cream bars. We can't take credit for this brilliance. In Taiwan, you can buy frozen baked sweet potatoes in convenience stores!
But we can take credit for dipping them in chocolate and covering them with a drizzle of white chocolate and peanuts, because here at WAG, we're all about finding new and creative ways to fuel our bodies while also having a little decadence. Sure, you could just go out and get a real Magnum (if it fits your macros, of course), but we also like the idea of having frozen sweet treats on hand that isn't loaded with added sugar.
Note that this recipe will only work with the suggested variety of sweet potato. Starchy varieties like the standard orange sweet potato or purple flesh Okinawan sweet potato just won't give you the caramely, soft texture. Luckily, Japanese sweet potatoes are found at many North American grocery stores like Whole Foods, Trader Joe's, and Sprouts. You're also likely to find them at your local Asian market. Look for small potatoes with reddish-purple skin and white flesh, just like the emoji!
Lastly, note that the macros for this recipe can be adjusted based on how much chocolate you use, so feel free to use whatever amount suits you!
Instructions
Preheat your oven to 425 degrees. Wash and scrub your sweet potatoes and pat them dry. Do not prick your sweet potatoes. Leave the skin intact in order to help the skin pull away from the flesh while roasting. Place them in the oven and roast until they are extremely soft and there's distinct space between the skin and flesh, about 1 hour.* Let the potatoes cool at room temperature.
Once the potatoes are cool, decide if you're going to peel off the skin or leave it on. The skin is edible, but some people don't like it so do what's best for you. Insert a popsicle stick into each potato and freeze them overnight.
When you're ready to coat the sweet potatoes with chocolate, combine the dark chocolate and coconut oil in a microwave safe bowl. Nuke the mixture in 30 second intervals, stirring in between, until fully melted.
Remove the sweet potatoes from the freezer and drizzle them with chocolate, catching any extra chocolate in a large bowl or on a cookie sheet. Because of the coconut oil, the chocolate should harden as soon as it hits the frozen sweet potato, like magic shell. But if it's warm in your kitchen, you may need to pop them back in the freezer or refrigerator for a few minutes to fully set up. For the most accurate macros, measure the amount of chocolate you use for each one and use as much or as little as you like.
To make the optional white chocolate drizzle, melt the white chocolate in a microwave safe bowl in 15 second intervals until loose enough to drizzle. Top with additional salted, chopped peanuts if desired.
Store leftovers in the freezer, wrapped in foil or plastic wrap.
*The length of time to roast the sweet potatoes depends on their size. Once they're very soft, be sure to take them out. Overroasting will cause the flesh to dry out and can also lead to a potato explosion, which creates quite the mess!
Recent Posts: