Calories
162
Fat
6 g
Carbs
15 g
Protein
12 g
Serves
4
500g Non-fat Skyr or Greek Yoghurt (125g per pop)
160g Strawberries (40g per pop)
160g Peaches (40g per pop)
Vanilla Extract
3 Packets Splenda (or sweetener of choice)
Share:
Tags: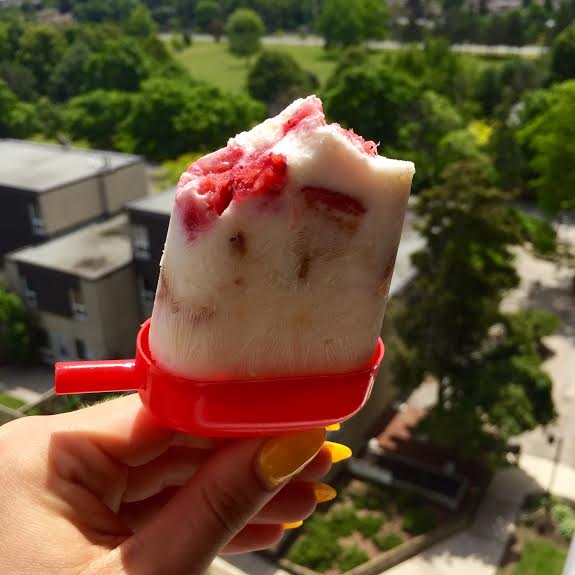 Summertime calls for hot heat and a cool treat, but there are a lot more options than the high carb, low protein frozen sugar-pops that you find at the corner store. These nutrient rich and endlessly customizable popsicles make for the perfect pre-workout snack or post-dinner treat for the whole family. You will need: Baking tray + tin foil Popsicle Mold Pro tip: To remove the pops safely, run the outside of the mold under warm water to slightly loosen!
Instructions
Preheat oven to 370 degrees.
Wash and chop fruit into small chunks. Divide 40g of strawberries and 40g of peaches per pop and separate on a lightly sprayed baking sheet.
Roast for about 15-20 minutes until the fruit is soft and can be broken apart easily with a spoon. Mash it up and let cool.
Weigh out 500g of dairy of choice, mix with 3 packets of sweetener of choice and 1.5tsp of vanilla extract.
Begin with a layer of pure yoghurt, and firmly tap down to completely fill the bottom of the molds. Layer in roasted fruits and the remainder of the yoghurt tapping firmly between each layer to remove any air!
Insert the sticks and place on a level surface in your freezer and wait! It generally takes 6 hours to freeze solid.
Recent Posts: