Calories
313
Fat
13 g
Carbs
27 g
Protein
22 g
Serves
1
130 g shrimp (this recipe also tastes great with fish, flat iron steak thinly sliced or the chicken breast - just adjust the macros!)
50 g green bell peppers
50 g cherry tomatoes
100 g mixed vegetables (broccoli, zucchini, squash)
70 g pineapple chunks (fresh or canned in 100% juice)
1 tsp curry paste of choice (green, yellow or red work best!)
200ml / 1/2 can Lite Thai Coconut Milk (sub half for fat-free condensed milk for lower fat)
2 to 3 basil leaves
5 g cilantro leaves to sprinkle on top
Optional: add any extra vegetables you have to use up!
Optional on the side: Pair with brown rice. This recipe does not include the macros for the rice.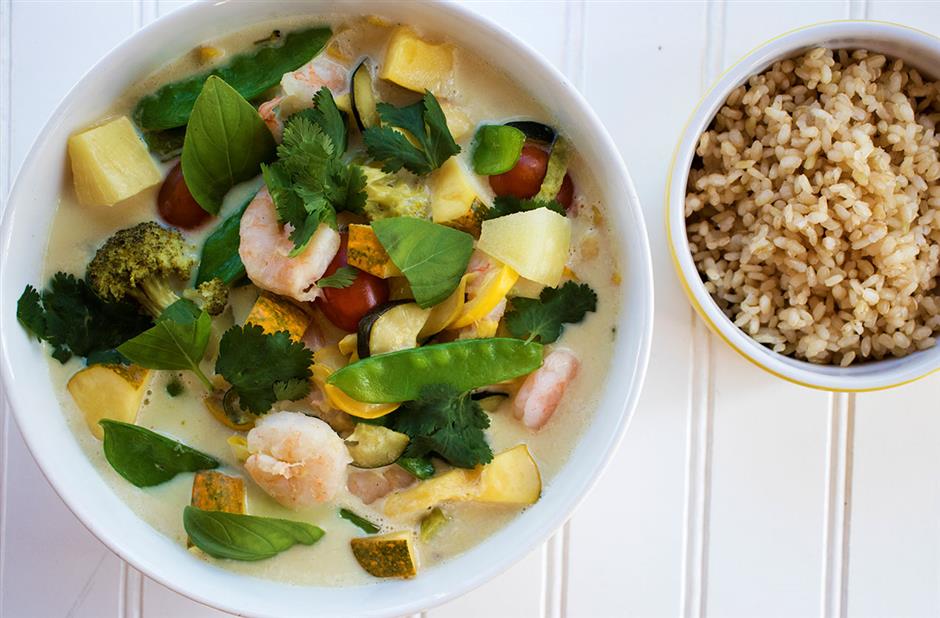 Take a handful of organic food options, add some coconut milk and curry paste, et voilà! A very simple, tasty curry ideal for when you're in a hurry.
Instructions
Heat a pot, large sauce pan or wok to low heat on a stove top. For this recipe I actually used my Instant Pot on the low sauté setting.
Add all vegetables and pineapple to the heat element and let them start to soften. Once they are a little soft (about 1-2 minutes), add curry paste. Stir for a few seconds until you can smell the intense curry paste flavor.
Add coconut milk and stir. Reduce heat to low and let the curry simmer, continuing to cook the vegetables to your liking.
With 1 minute left, add the shrimp. It is precooked so you don't want it to sit in the pot for long. This step is just to bring the shrimp to the temperature of the rest of the dish.
During the 1 minute, add the basil leaves.
Serve with fresh cilantro on top! This recipe goes great with brown rice too.
---
You Might Also Like