Calories
394
Fat
10 g
Carbs
47 g
Protein
29 g
Serves
1 serving
4 oz / 113 g salmon fillet
60 g cherry tomatoes
60 g dried pasta of choice
2 g olive oil
3-4 fresh basil leaves
Share:
Tags: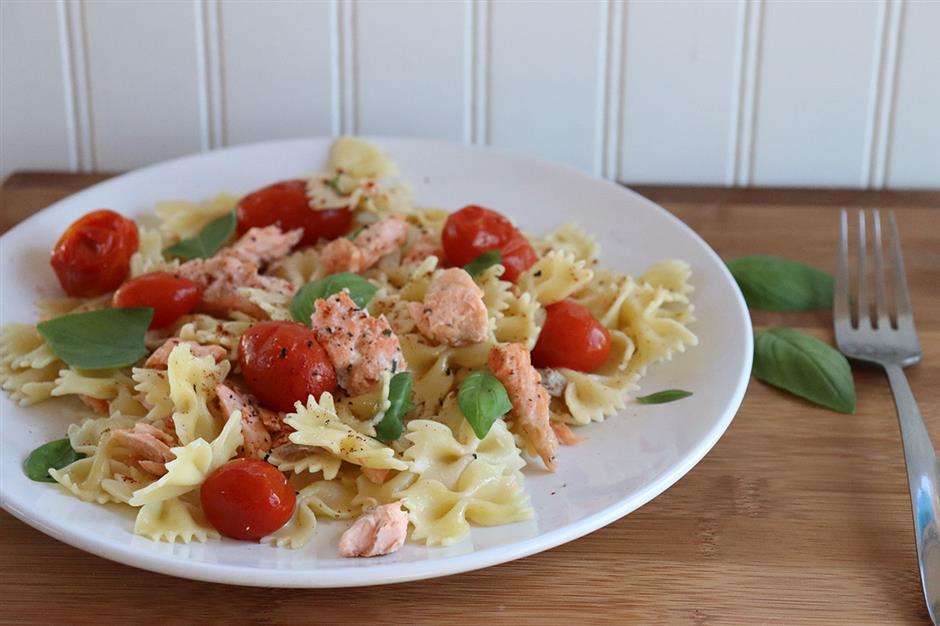 This fresh, salmon-filled pasta is made primarily with a la carte ingredients, making it the perfect recipe hack for your weekly meal prep using a meal prep service! Simply boil some pasta, add the ingredients and you're good to go!
Instructions
Boil pasta until cooked, drain and let cool. Transfer to your bowl/container.
If preparing in bulk, evenly divide the pasta.
Carefully pour/spray 2 grams of olive oil. The point is to keep the fats in your control but still create moisture in the paste so it's pleasant to eat! If you want this meal to be higher in fat, you can use more olive oil.
Another option: This recipe is delicious with 30 grams of softened cream cheese mixed through. Light cream cheese will make the dish very moist and creamy for only 4.5 grams of fat. Make sure you update the macros of this recipe to reflect that change.
Thoroughly mix the olive oil (or cream cheese) into the pasta. The best way is if you're storing it in a container to close the lid and give it a really good shake. This helps with even distribution of the thin layer.
Shred the Trifecta Salmon Fillet using your hands or two forks and add them to your pasta.
Add the Trifecta Cherry Tomatoes and roughly rip the fresh basil leaves and add them to the dish. Mix together or use the sealed container to shake the pasta and get all ingredients evenly spread throughout.
Visit the Trifecta a la carte menu to get other great options to add to your weekly meal prep!
Recent Posts: