Calories
110
Fat
2 g
Carbs
18 g
Protein
5 g
Serves
4 (serving size = 25 g)
1 15 oz can of chickpeas, rinsed and dried
Olive oil spray
5 g powdered Riega cheddar cheese sauce mix
5 g minced dried onions
1/2 tsp garlic salt
Pinch of salt
Share:
Tags: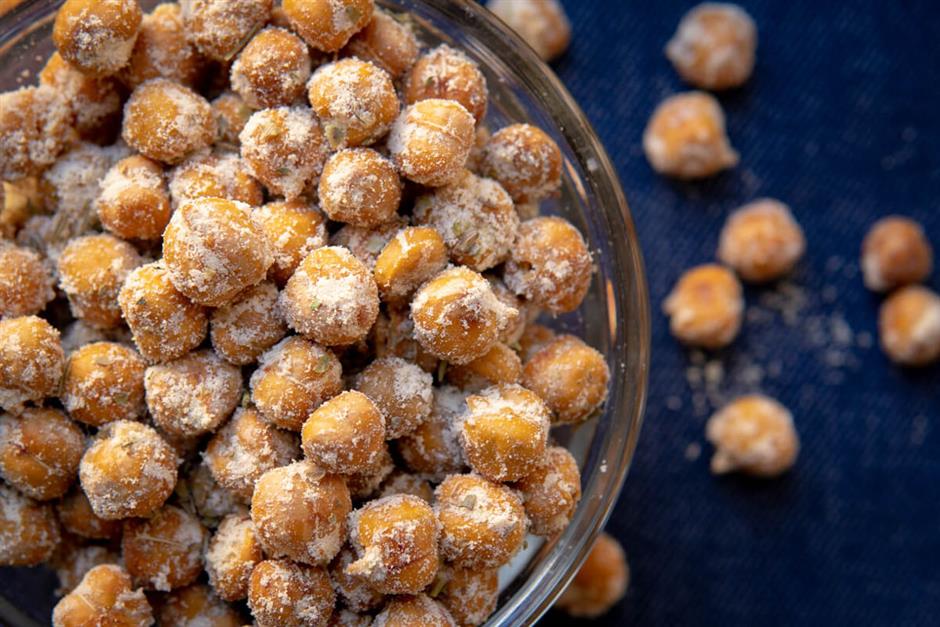 With all the nutritional benefits of chickpeas and the cheesy seasoning of your favorite chips, these crunchy roasted garbanzo beans will be your new favorite snack.
We found the cheddar cheese powder at Whole Foods, but if you can't find the pouch on its own, grab a box of Annie's Mac & Cheese and use a little of the cheese powder. Don't worry, you'll still have plenty left over for a bowl of cheesy mac. A little powder goes a long way in this recipe.
Instructions
Preheat oven to 375 F.
Drain and rinse the chickpeas, then dry them thoroughly by letting them sit out on paper towels for an hour, or by rubbing them in between paper towels until they're bone dry. (This is essential for crispiness.)
When the chickpeas are dry, spray them with a mist of olive oil spray and toss with a pinch of salt. Roast in the oven for 30–40 minutes, shaking the pan every 10 minutes or so until the chickpeas are golden brown.
Meanwhile, combine the cheddar cheese powder, dried onions and garlic salt in a small bowl.
Remove the chickpeas from the oven, give them another quick spray of olive oil and toss them in the powder.
Store in an airtight container.
This recipe is easily adaptable to any sort of powdered flavor. If you're not into cheese, try cinnamon and sugar, cayenne and garlic salt, or Italian herbs and flaky salt. Just remember to adjust the macros!
This guide is jam-packed with everything you need to know about nutrition.
From tracking macros to meal ideas.
Recent Posts: