Calories
176
Fat
4 g
Carbs
16 g
Protein
19 g
Serves
1 (makes 8)
1/2 cup quinoa
1 cup (8 fl oz) water and a pinch salt
1 tbsp olive oil
2 1/2 cloves of raw garlic
20 oz extra lean ground turkey
2 tsp Italian seasoning (or dried oregano and basil)
1/4 tsp salt and pepper
8 fluid ounce tomato products (canned sauce)
2 oz baby spinach
4 oz red bell pepper
1 tbsp basil, fresh
2 small (2-inch dia) small yellow onion
Fresh herbs for serving
Share:
Tags: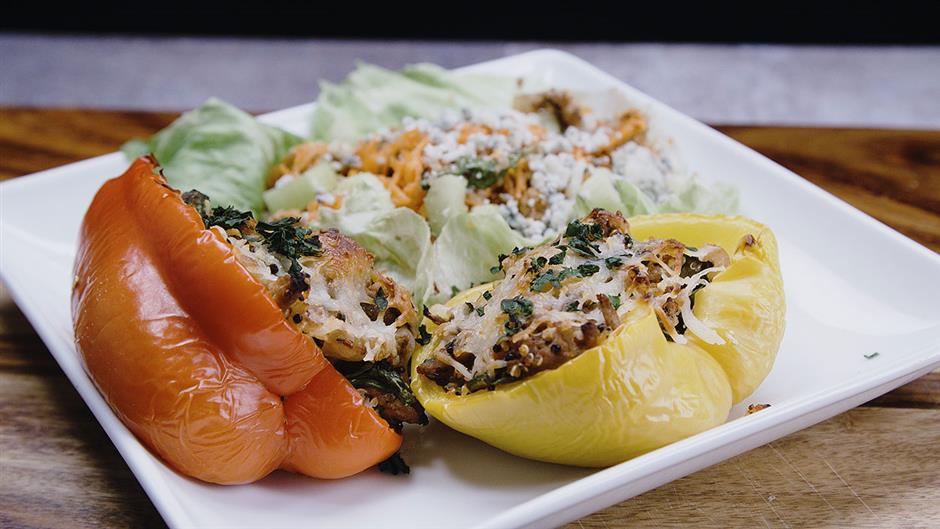 These quinoa stuffed peppers are full of fiber and balanced macros. These are great to spice up a weeknight dinner or entertain friends. Stuffed peppers are also very versatile, play with the ingredients for some fun combinations!
Instructions
Preheat oven to 350 degrees F.
Clean quinoa by rinsing and straining until the water runs clear.
Combine the quinoa and salt-water in a medium pot and bring to a boil, then cover and simmer for 15 minutes. Remove lid and cook for 2-3 extra minutes until all the water is fully absorbed by the quinoa. Remove from heat and set aside to cool.
Heat oil over medium-high heat. Add onion and garlic and sauté until translucent. Add turkey and Italian seasoning. Cook the meat through and then stir in the tomato sauce and spinach. The spinach will wilt down quickly.
Add the turkey to the cooled pot of quinoa. Combine together to create a mixture.
Wash peppers and cut lengthways. Deseed and place on a baking tray.
Spoon the turkey-quinoa mix into the 8 pepper halves. If you'd like, top the pepper with some cheese (mozzarella is recommended for taste and macros). Make sure to add the cheese to your macros.
Bake for 30 minutes. Peppers should be soft but still holding their form. Sprinkle with the fresh herbs prior to serving.
Recent Posts: