Calories
289
Fat
1 g
Carbs
41 g
Protein
29 g
Serves
1 serving
4 oz / 113 g ahi tuna steak
17 g [House of Tsang Stir Fry Sauce, Szechuan Spicy Sauce](https://www.amazon.com/House-Tsang-Szechuan-Spicy-Sauce/dp/B0000TZHZ4) (because it has lower macros than actual sesame seed oil with all the right flavors for poke)
100 g brown rice (or your desired amount, just update the macros)
15 g chopped spring onion
60 g pineapple chunks (fresh or canned in 100% juice)
40 g sliced pickled ginger
Share:
Tags: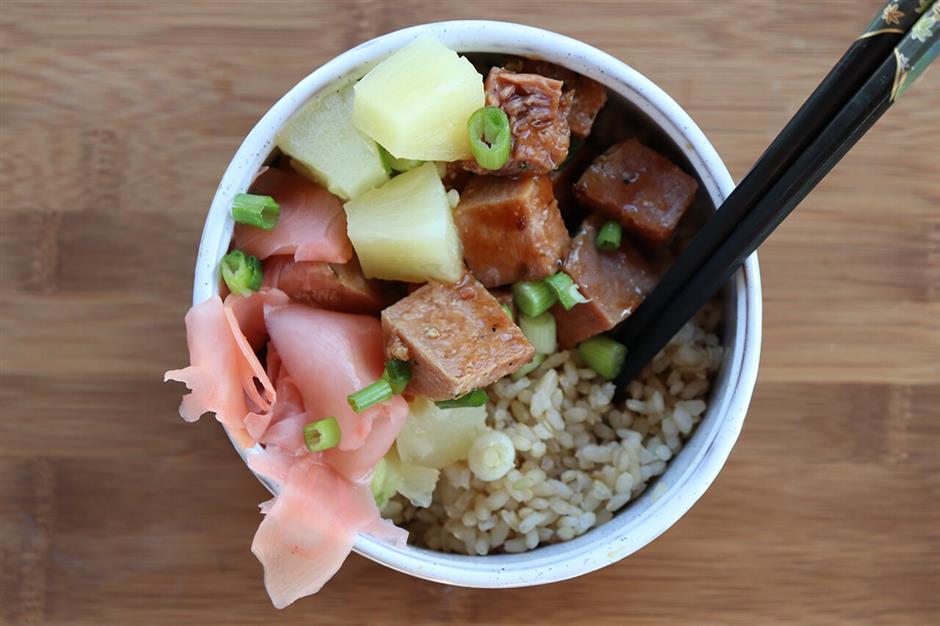 Poke is so fresh, delicious and macro-friendly. It's also so easy to make your own poke-inspired bowl using simple ingredients Ahi Tuna and Brown Rice. All you need are a couple of extra ingredients prepared in the fridge to whip up a bowl every day.
If you're looking for a lighter-carb option, try using only a little rice for texture and loading up on extra tuna, pickled ginger, and salad options.
Instructions
Dice the ahi tuna steak and place in a small bowl. Add the Szechuan sauce and mix to cover thoroughly.
In a bowl or container, add your brown rice
Add all ingredients to the top of the bowl and serve cold!
What are some ways you mix up your poke bowl?
Recent Posts: