Calories
131
Fat
3 g
Carbs
17 g
Protein
9 g
Serves
6 (serving size = 1 bar - 50g)
50 g Ascent Vanilla Whey Protein
60 g light syrup (if you don't use light syrup, make sure you update the macros!)
30 g peanut butter (if you want, you can use half PB half PB2, but these are already low fat)
100 g ripe banana
50 g rolled oats
35 g frozen blueberries
Share:
Tags: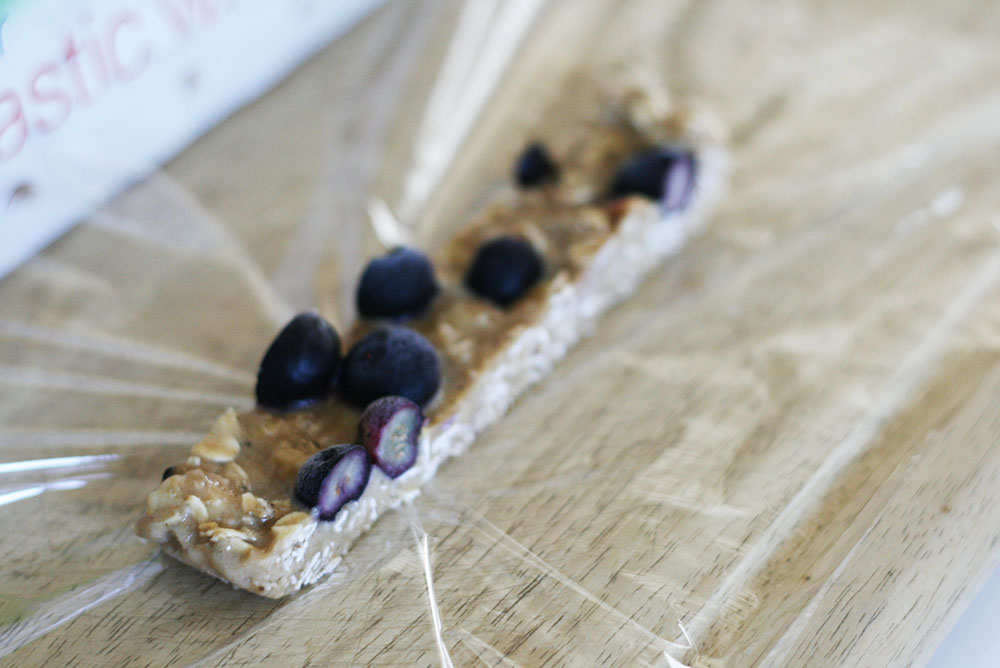 If you live for a good protein bar or just appreciate the ease of grab-and-go foods (who doesn't, right?) — then these are for you. They'll satisfy any sweet tooth with their toffee, peanut butter and banana flavor, and the macros and ingredients list are better than most bars that you'll buy in stores.
My favorite part: they're the no-bake, ready in 5 minutes — making them seriously swoon-worthy.
Instructions
Combine all ingredients into a saucepan or pot. Mash up the banana as much as possible while you're mixing. If the banana is frozen, microwave it until it gets mushy, which makes it easier to combine with other ingredients, especially because we're going to be melting the mixture together over heat. I have also found that simply microwaving the ingredients together and mixing works, too.
Heat saucepan on the stove using low heat. Stir regularly until the mixture is combined and thick.
While the mixture is melting together, prepare a small square tray or dish with a sheet of non-stick baking or parchment paper.
Pour the melted mixture into the dish and spread evenly. Sprinkle blueberries on top and push them into the batter. Place the dish in the freezer for 2-3 hours.
Remove dish from freezer and take the bars out of the dish. The mixture should be holding its shape now.
Run the blade of a sharp knife under hot water so it will easily cut through the frozen bars. Cut into 6 bars and individually wrap!
Refreeze the individual bars–they won't freeze rock hard. In fact you can bite straight in from the freezer! Perfect for a hot day! They also defrost quickly and become chewy and delicious.
Recent Posts: