Calories
276
Fat
12 g
Carbs
4 g
Protein
38 g
Serves
3 (serving size = 183 g)
550 g pork tenderloin
45 g old-fashioned grainy mustard
15 g (2–3 cloves) garlic, minced or pressed
1 tbsp Italian seasoning (1 tsp dried thyme + 1 tsp dried oregano + 1/2 tsp dried rosemary + 1/2 tsp dried sage)
20 g olive oil
Salt and pepper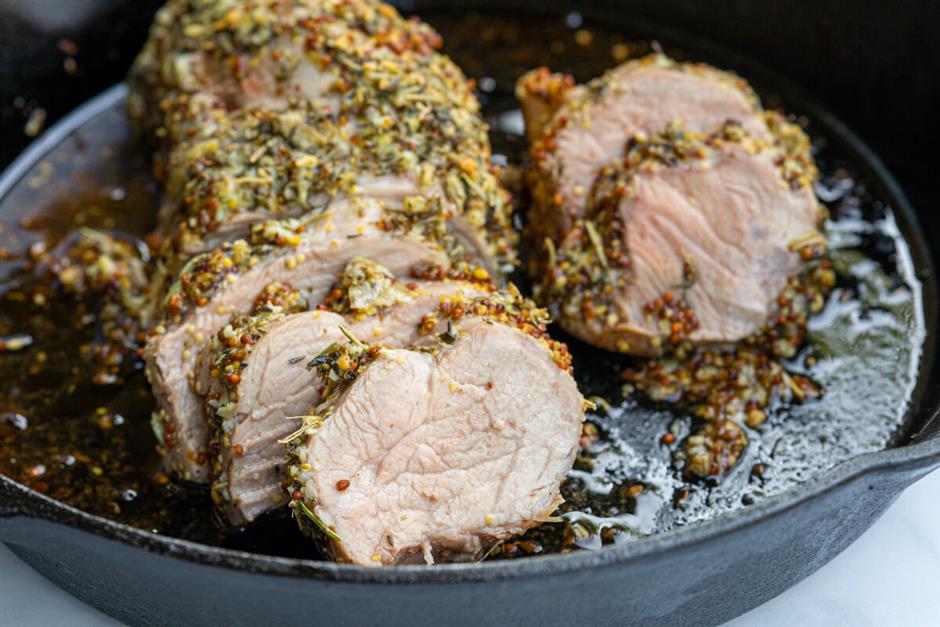 Tired of chicken breast? Change it up with pork tenderloin, an exceptionally lean cut of meat that's also easy on the wallet.
Because pork tenderloin is so low in fat, it runs the risk of drying out if it's overcooked. There are two ways to make sure your pork is perfectly pink and juicy. First, invest in a digital oven thermometer that takes all the guesswork out of cooking meat to your desired temperature. Second, slather that pork in a mustard and herb marinade that will keep it juicy as it cooks. You may never go back to chicken again!
Instructions
Preheat your oven to 350 F.
Combine the olive oil, minced garlic and all the dried herbs in a bowl. Set aside.
Generously salt and pepper the pork loin and place it in an oven-safe baking dish or cast-iron pan. Then, use a pastry brush or spoon to slather the grainy mustard all over the pork (except on the bottom, where it could burn). Spoon or brush the olive oil and herb mixture over the top of the mustard.
If you're using an oven thermometer, place the probe in the thickest part of the pork loin. Roast the pork for 25–35 minutes, depending on the size of your pork loin and preferred doneness. Cook the pork loin to 140–145 F for a pink loin, and up to 160 degrees F for a white and cooked through.
When the pork loin is finished cooking, remove it from the oven and let it rest for 5 minutes before slicing and serving.
---
You Might Also Like