Calories
304
Fat
8 g
Carbs
43 g
Protein
15 g
Serves
4 (serving size = 306 g)
460 g eggplant (1 standard eggplant)
410 g fresh tomatoes, diced
40 g shallot or onion, sliced
2 cloves garlic, minced or pressed
30 g olive or coconut oil
20 g miso paste
30 g soy sauce
20 g maple syrup
10 g fresh ginger, peeled and grated
The juice and zest of one lime (about 35 grams of juice)
1 package of Trader Joe's steamed lentils
Fresh mint, for garnish
Salt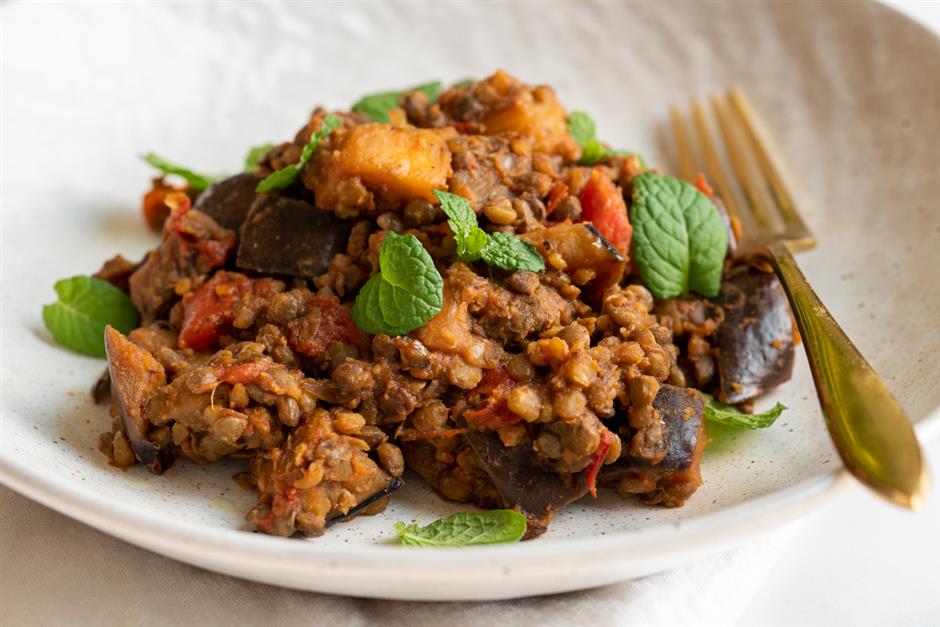 Lentils are a fantastic source of protein and fiber, but they can be a little boring on their own. Not to fear! We combine them with silky eggplant, tomatoes, and a flavorful miso sauce for a one-pot dish that will satisfy vegans and carnivores alike.
Instructions
Remove the leafy tip from your eggplant. Then, cut the eggplant into 1/2-inch-thick slices and arrange them in a single layer on a cookie sheet. Generously salt the eggplant (you'll wipe off most of the salt later) and let the eggplant sit for 20–30 minutes. The salt will draw out moisture from the eggplant, which will create a silky texture once cooked.
While the eggplant is resting, slice your shallots, dice your tomatoes and mince your garlic.
When the eggplant is almost ready, heat a large frying pan over medium heat. Add the oil, and when it's hot, add the shallots to the pan. Let them saute while you prepare your eggplant, for about 5 minutes, until soft and lightly brown.
To prep the eggplant, wipe off any excess salt and moisture with a paper towel. Then, dice the eggplant into 1-inch squares and add it to the pan along with the shallots. Let the eggplant cook for about another 5 minutes, until it begins to brown. Add the tomatoes and garlic, then let the mixture simmer until the tomatoes start to break down. About 10 minutes.
While the vegetables are simmering, prepare the sauce by combining the miso paste, soy sauce, maple syrup, fresh ginger, lime juice, and lime zest. Set aside.
When the eggplant is soft and the tomatoes no longer taste raw, add the prepared lentils, breaking them up with a fork if necessary. Pour in the miso sauce, stir and let everything simmer together until the lentils are heated through.
Garnish with fresh mint and serve.
Miso is one of the secrets to Japanese cuisine. Made with fermented soybeans (trust us, it's delicious), miso is typically found in three varieties: red, white, and yellow. Most North American grocery stores will carry it, either in the refrigerated section or wherever they store their tofu products.
Wondering what your macros might be? Wondering how to track macros in the first place? Check out our Macro Calculation Cheat Sheet & 18 Tips and Tricks for macro counting!
---
You Might Also Like