Calories
367
Fat
11 g
Carbs
35 g
Protein
32 g
Serves
4
50 grams of Mountain Bread Light Rice Wraps
112 grams raw of Smithfield Roasted Garlic and Cracked Pepper Pork Loin
14 grams raw green onions
14 grams raw cilantro
31 grams of Desert Pepper Trading Company Fat Free Salsa Del Rio Medium
28 grams of Kraft Shredded Mexican Style Four Cheese
Share:
Tags: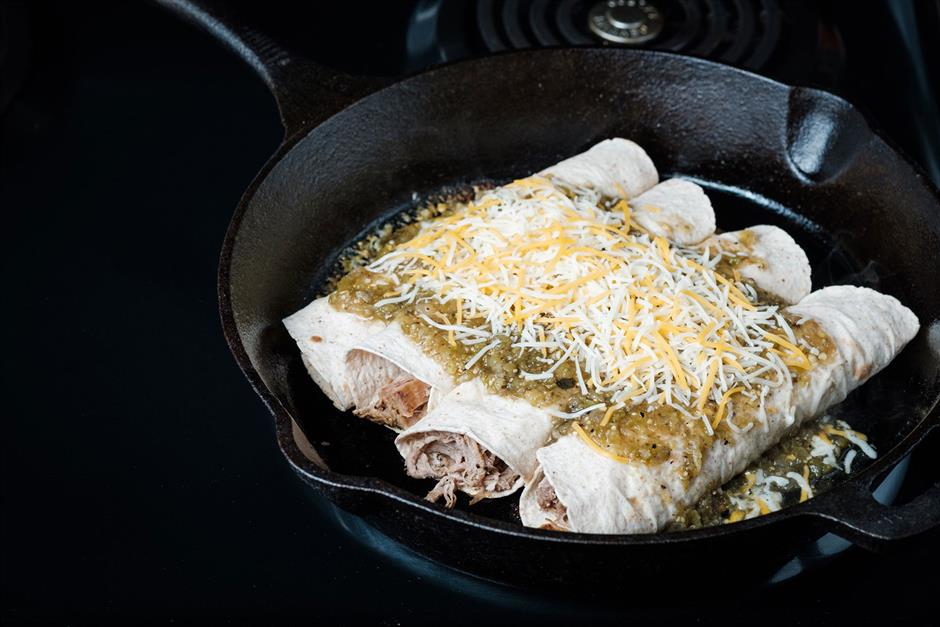 These stove-top enchiladas are quick and easy! Use any meat you've prepped for the week to fill them. This week I had pork loin prepped, so that's what I used. YUM! To find your raw to cooked ratio, weigh your meat raw then reweigh after it is cooked. This will provide you with a multiplier.
Example: 15 ounces of raw meat weighed 13 ounces after it has been cooked. 15/13= 1.15. So if we have 2 ounces of cooked meat x 1.15 = 2.3 raw. We then would use the macros based on the raw weight.
Instructions
Divide the 50 grams of Mountain Bread Light Rice Wraps into four equal slices. Slice vertically.
Combine 70-84 grams of cooked pork loin and combine with fresh cilantro and green onion. Add sea salt if desired.
Divide the mixed ingredients into 4 equal parts.
Heat up your skillet on the stovetop.
Place 1 serving of mixed ingredients into the Mountain Bread Light Rice Wraps lengthwise then roll and place seam down into skillet. Repeat steps for the other 3 enchiladas.
Lightly brown enchiladas until the rice wraps are toasted.
Top enchiladas with salsa and cheese!
Recent Posts: