Calories
74
Fat
2 g
Carbs
9 g
Protein
5 g
Serves
14
100 g Medjool dates, pitted
40 g collagen powder
25 g vanilla whey protein powder
16 g (2 tbsp) coconut flour*
25 g (1/4 cup) quinoa flakes
26 g (1 + 1/2 sheets) of low-fat graham crackers. Set the 1/2 sheet aside.
15 g hemp hearts**
15 g cashew butter, warmed enough to be runny
30 g (2 tbsp) coconut milk (can sub nut milk or light coconut milk)
1 lemon, zested + a quick squeeze of its juice
1/4 tsp vanilla
Pinch of salt
Share:
Tags: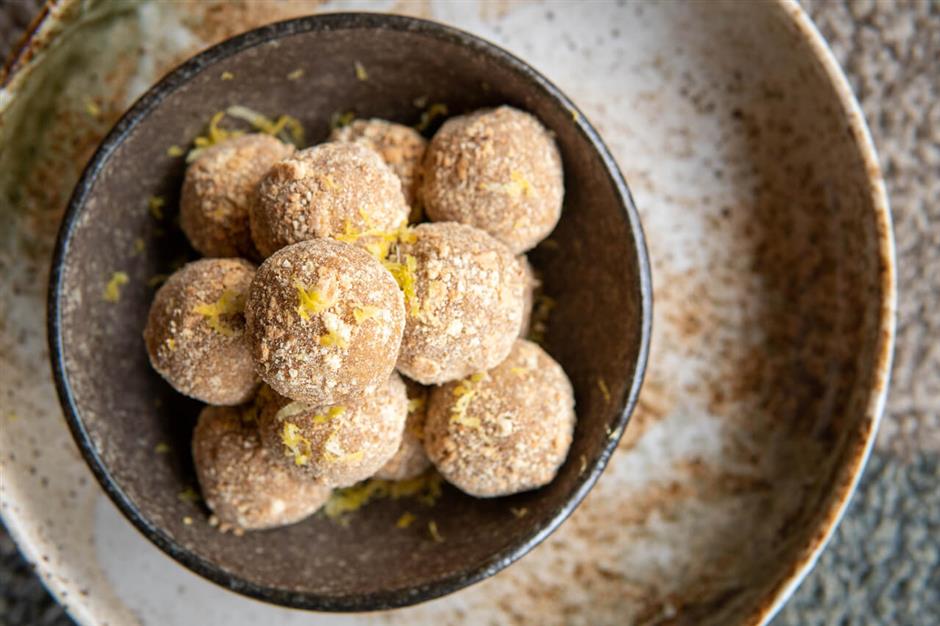 Finding success when counting macros often means building convenience into your day. Protein balls are a fantastic, balanced on-the-go snack that can easily be adjusted to fit the macros your WAG coach has assigned.
These lemon graham balls taste like homemade lemon bars but are packed with 5 grams of protein per ball.
Instructions
Cover the pitted dates in boiling water and allow them to soak.
While the dates are soaking, into a small bowl combine collagen, whey, coconut flour, quinoa flakes, hemp heart, and salt. Break up one sheet of graham crackers and add it to the bowl. Set aside.
Remove the dates from the hot water and add them to a food processor along with cashew butter, coconut milk, vanilla, lemon juice, and lemon zest. Pulse until well combined (you may need to scrape the bowl a few times).
Add the dry ingredients to the food processor and pulse the mixture until it holds together. Transfer the mixture to a bowl and place it in the refrigerator to chill for about 30 minutes. (You can omit this step if you like, but it helps make the balls easier to roll.)
Once the mixture has chilled, crush the remaining 1/2 sheet of graham crackers into crumbs. When you're ready, form equal-sized balls with your hands and roll them in the crushed graham cracker mixture. Store them in an airtight container in the refrigerator.
*No coconut flour on hand? Feel free to add a few extra tablespoons of quinoa flakes and adjust the macros.
**Hemp hearts add a little extra protein and a boost of nutrients, but if you're hoarding your fat grams, leave 'em out.
Want to cook more recipes with the flavors of spring? Our guide to in-season spring produce is the perfect place to start.
Recent Posts: