Calories
213
Fat
21 g
Carbs
2 g
Protein
4 g
Serves
12 (serving size = 1 cupcake)
3 eggs whisked
2 tbsp stevia powder
2–3 carrots (200 g) shredded or finely chopped
2 tsp vanilla extract
1 cup almond flour
2 tbsp flax meal
1/4 cup shredded coconut
1/2 cup walnuts
3/4 cup ghee or coconut oil
2 tsp baking powder
1/2 tsp baking soda
2 tsp cinnamon powder
1 tsp ginger powder
1 tbsp apple cider vinegar
1 dash nutmeg
1 dash of salt
8 oz cream cheese - for frosting
2 tsp stevia (optional) - for frosting
1/2 tsp vanilla extract (optional) - for frosting
Share:
Tags: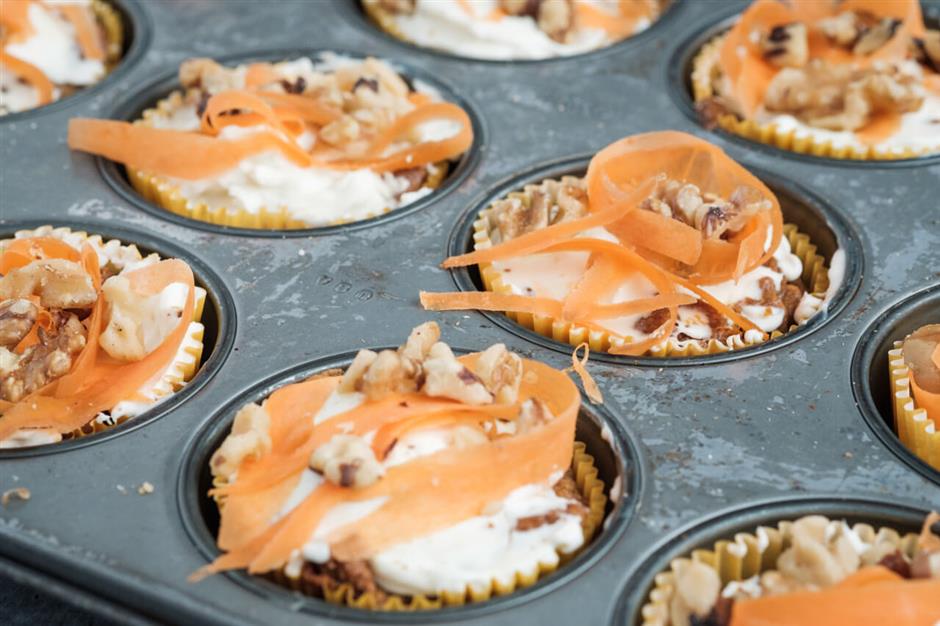 Indulge in your sweet tooth AND up your fiber game with these low-carb carrot cupcakes featuring a rich cream cheese frosting. Shredded carrots and shredded coconut provide plenty of fiber to keep you full, and the flavors of cinnamon, vanilla, and stevia satisfy your craving!
Instructions
Preheat oven to 350 F (175 C).
Mix all the cupcake ingredients together in a large bowl except the carrots.
Add all cupcake ingredients into a food processor or high-powered blender and now add shredded carrots. Pulse/puree until a smooth consistency (slight orange color).
Pour into cupcake pan (use paper liners; makes approximately 12 cupcakes) and bake for 30 minutes.
Meanwhile, heat up the cream cheese until it is easily stirred and mix in stevia and vanilla extract if desired.
Allow cupcakes to cool after baking, then spread cream cheese "icing" and garnish with walnuts and carrot shreds.
This guide is jam-packed with everything you need to know about nutrition.
From tracking macros to meal ideas.

Recent Posts: