Calories
211
Fat
7 g
Carbs
31 g
Protein
6 g
Serves
12 (serving size = 135 g)
45g (3 tbs) butter (fruit filling)
500 g sliced plums (fruit filling)
500 g sliced peaches (fruit filling)
500 g sliced nectarines (fruit filling)
200 g pitted cherries (fruit filling)
36 g (3 tbs) sugar (fruit filling)
Pinch salt (fruit filling)
1 tbs lemon juice (fruit filling)
1 ½ tsp cornstarch (fruit filling)
200 g Kodiak cake mix, buttermilk flavor (cobbles)
¾ c low fat buttermilk (cobbles)
60 g (4 tbs) butter, melted (cobbles)
24 g (2 tbs) sugar (cobbles)
Pinch salt (cobbles)
1 tsp ground cinnamon plus more for dusting (cobbles)
Share:
Tags: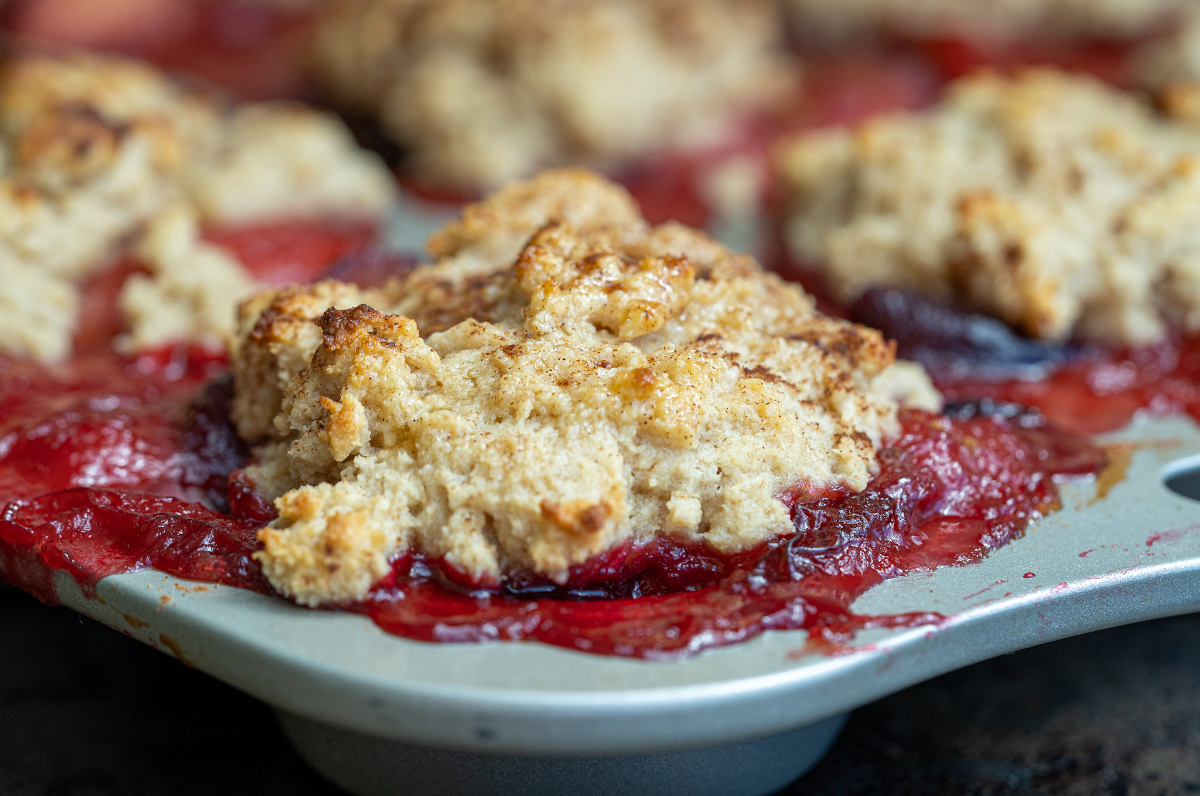 Summer calls for fresh desserts! By using high protein Kodiak cake mix and cupcake tins for automatic portioning, our WAG Individual Stone Fruit Cobblers are the perfect way to use up all that summer fruit while satisfying a sweet craving and keeping those macros in check.
Note that this recipe calls for about three and a half pounds of stone fruit (peaches, nectarines, apricots, cherries, and plums–any fruit with a pit). You can use any combination of any fruits you have, just be sure to weigh the fruit after slicing for the most accurate macros. Alternatively, you can use frozen sliced fruit instead of fresh. There's no need to thaw it. Simply start cooking!
Lastly, this recipe does need some granulated sweetener. We calculated the macros using plain white sugar, but feel free to sub with coconut sugar or even a monk fruit or allulose blend.
Instructions
For the filling: Preheat oven to 425 degrees.
In a large skillet, melt the butter over medium-high heat. Add ⅔ of the sliced fruit*, sugar, and salt. Cook, covered, until the fruit releases their juices, about 5 minutes. Remove the lid and simmer the mixture until most of the liquid has evaporated, about 15 minutes.
In a small bowl, combine the lemon juice and cornstarch to make a slurry. When the cooked fruit is ready, add all the remaining fresh fruit to the pan along with the slurry mixture. Give it a stir, cover, and take it off the heat.
For the cobbles: While the fruit is cooking, combine the Kodiak cake mix, buttermilk, melted butter, sugar, pinch of salt, and 1 tsp of ground cinnamon. Stir until the mixture forms a sticky dough. Set aside.
To assemble the cobblers, fill a 12 cup cupcake tin with the fruit filling. Portion and weigh out balls of cobbles and rest them on top of each cup of fruit. Dust the cobbles with a little more cinnamon and bake for 20-25 minutes, or until the cobbles are fully cooked.
Serve warm with your favorite ice cream for the ultimate treat.
One of the biggest issues with cobblers is that the fruit releases its juices and tends to sog up the cobbles. To help solve this problem, cook ⅔ of the fruit until the pan is almost dry. Then add the remainder of the fresh fruit to the skillet. This technique helps keep the fruit filling dry so your cobbles won't be a soggy mess.
Recent Posts: