Calories
45
Fat
1 g
Carbs
2 g
Protein
7 g
Serves
16 meatballs
1 lb 99% lean ground bison
1 egg
14 g panko breadcrumbs
150 g red onion, grated and drained of excess liquid
6 large mint leaves, chopped
1/3 cup chopped parsley
2 garlic cloves, minced or pressed
1/2 tsp dry oregano
23 g harissa paste*
1 tsp salt
Pinch of black pepper
Share:
Tags: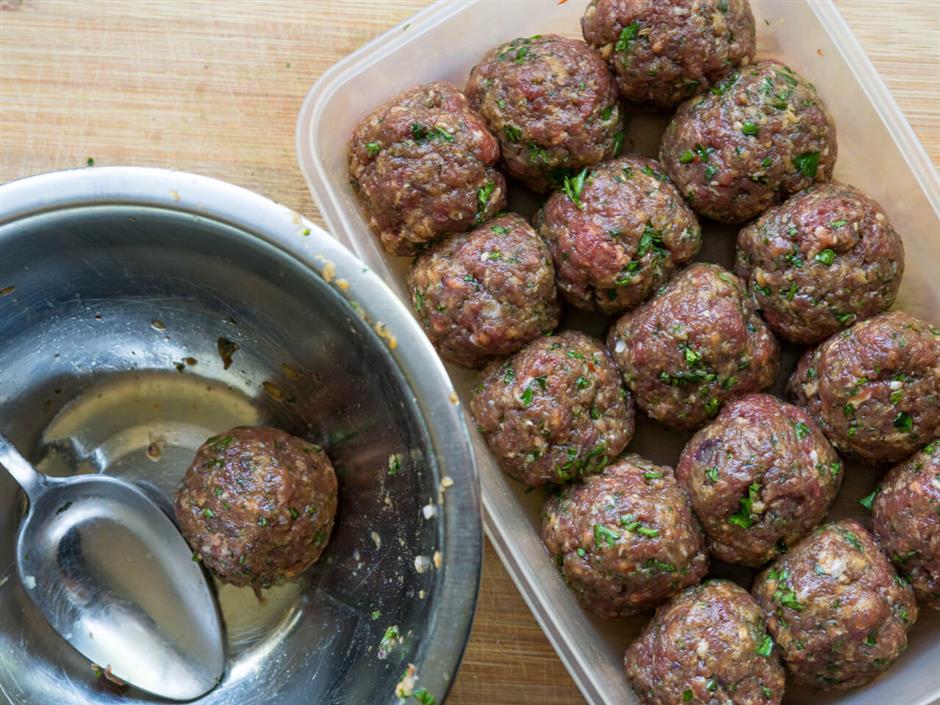 When it comes to counting macros, meatballs are the ultimate food. Not only do they pack a protein punch, but they're conveniently pre-portioned as well! These Greek bison meatballs are tender and juicy, full of flavor but low in fat. Serve them with macro-friendly tzatziki sauce and store-bought pitas for a complete meal that will rival your local taverna.
Instructions
Combine the egg, bread crumbs, grated red onion, mint, parsley, garlic, oregano, harissa paste, salt and a pinch of black pepper in a large bowl until well mixed.
Add bison to the bowl and work the mixture with your fingers until it is evenly combined. (You can do this ahead of time and cover and refrigerate until you're ready to roll!)
When you're ready to make the meatballs, spray your hands with a little cooking spray and form the meatballs, 45 g per meatball.
Heat a nonstick pan over medium heat and spray with cooking spray. Arrange the meatballs in the pan and let cook, gently turning frequently so they brown on all sides, about 12 minutes. Meatballs are done when the middle is faintly pink, but not raw.
Harissa paste is traditionally used in Tunisian or Moroccan cuisine, but it's a delicious addition to these meatballs. You'll find it in a jar or tube in most grocery stores, but note that different brands have different macros — and some have lots of fat. This recipe was calculated using DEA brand harissa, but if you can't find it, feel free to either leave it out or substitute tomato paste.
Recent Posts: