Calories
187
Fat
7 g
Carbs
23 g
Protein
8 g
Serves
9 (serving size = 50 g cooked)
270 g ripe and spotted bananas (2 large, peeled)
2 packets (64 g) of vanilla almond RX Nut Butter
200 g rolled oats
Pinch of salt
1 tbsp (10 g) ground espresso beans
30 g powdered collagen
5 drops liquid stevia
30 g dark chocolate with espresso beans, chopped (the macros for this recipe were calculated using Bija Espresso + Cacao Nibs 70% dark chocolate)
Share:
Tags: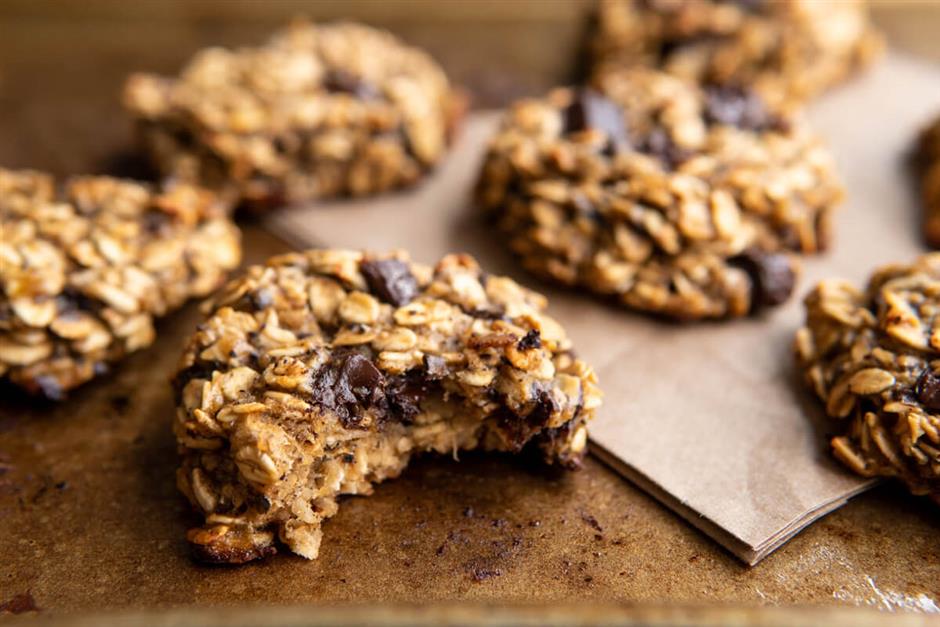 When oatmeal in a bowl is too much of a hassle, whip up a batch or two of these Espresso Chip Breakfast Cookies for an on-the-go, macro-friendly way to start the day. For an added protein boost, crumble these cookies over nonfat Greek yogurt.
Instructions
Preheat oven to 350 F and line a baking sheet with parchment.
In a bowl, mash the banana and nut butter with a fork until mixture is smooth. Add the remaining ingredients and stir.
Drop the batter onto the baking sheet in 65-gram spoonfuls and shape into a disk about 3/4 of an inch thick. The cookies won't spread, so you can keep them close together.
Bake the cookies for 10–15 minutes, until golden brown and set. Baking time will vary depending on your oven, so start checking them after 10 minutes.
Store in the refrigerator or freezer.
In order to add a little extra protein to the cookies, we use two packets of RX vanilla almond nut butter, which can be found in most grocery stores. Feel free to sub in your nut butter of choice (just don't forget to adjust the macros!).
Recent Posts: