Calories
436
Fat
8 g
Carbs
55 g
Protein
36 g
Serves
3
500 ml Carton Swanson Chicken or Beef Broth (any broth alternative, especially Asian style broths like Swanson Thai Ginger Infused are even more flavor packed)
1 cup water
Fresh ginger or ginger powder to taste
Fresh garlic or garlic powder to taste
1 tbsp. soy sauce (or to taste)
1 tbsp. fish sauce
Whole onion, sliced
1 tsp. coriander seed
Fresh coriander, cilantro, basil or mint to serve
Fresh green vegetables e.g. broccoli, mushrooms, carrots (optional)
Vietnamese rice noodles, dry (optional) - however much noodles you can fit in your macros!
400 g thinly sliced beef, chicken or rare roast beef deli meat
Share:
Tags: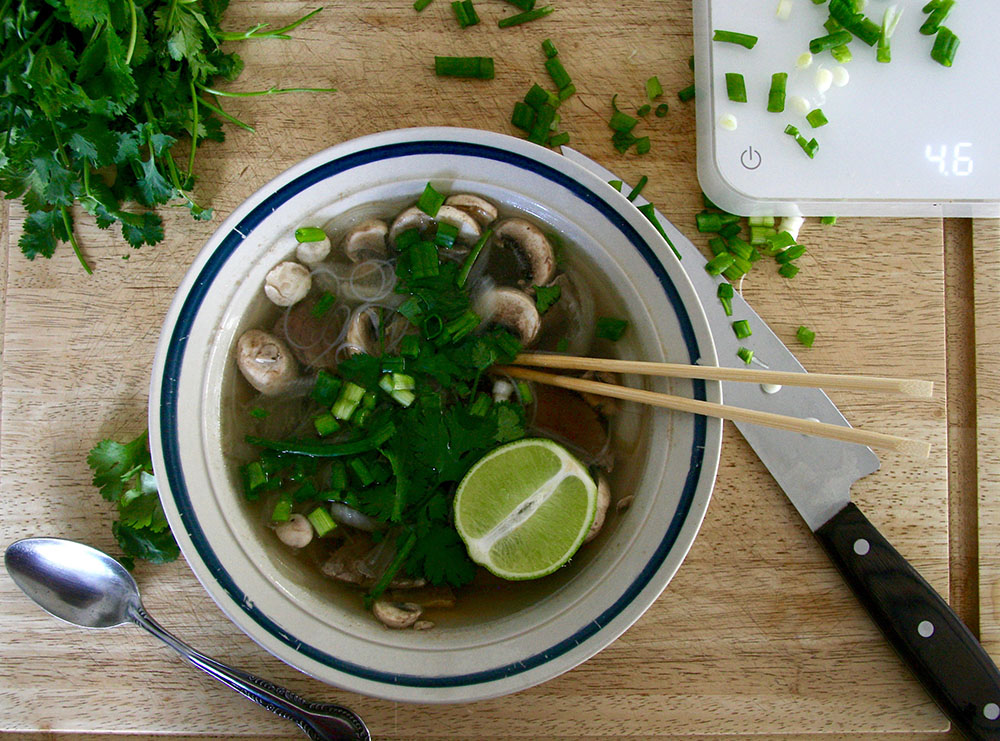 Being short on time or macros can leave you either eating something bland and boring or being tempted to make a poor food choice in favor of preferred taste.
Having a low macro, high volume and easy to heat option ready when you need it is an absolute lifesaver.
This fully customizable WAG version of a traditional Vietnamese specialty is designed to be prepared, frozen and pulled out when you need it - although making it fresh doesn't take long either! If you don't have many carbs left leave out the Vietnamese rice noodles and enjoy this tasty, nourishing, Asian inspired soup with a squeeze of lime!
The macros for this dish are based off of a rare roast beef. Macros will change if you choose chicken or deli meat.
Instructions
In a large pot, bring broth and water to a simmer.
Add soy sauce, fish sauce, coriander seed, ginger and garlic.
Add onions and thinly sliced meat (you can add this raw but if you choose to cook it beforehand or buy it pre-cooked, add it towards the end so that it does not overcook).
Simmer for 4-5 minutes or until meat is cooked through to your liking.
Add vegetables to the pot for 1 minute before taking the broth off the heat, so that the vegetables will lose their crunch.
Take off of the heat and cool down. Divide into portions and freeze down.
Recent Posts: