Calories
254
Fat
6 g
Carbs
35 g
Protein
15 g
Serves
4 (serving size = 100 g)
140g green lentils, cooked according to package directions OR one package of pre-cooked lentils warmed in the microwave
275g cherry tomatoes, halved
7g olive oil
15g balsamic vinegar
20g red onion, thinly sliced
Splash of red wine vinegar
40g garlic & herb Boursin cheese*
¼ c parsley, chopped
Salt & pepper
Share:
Tags: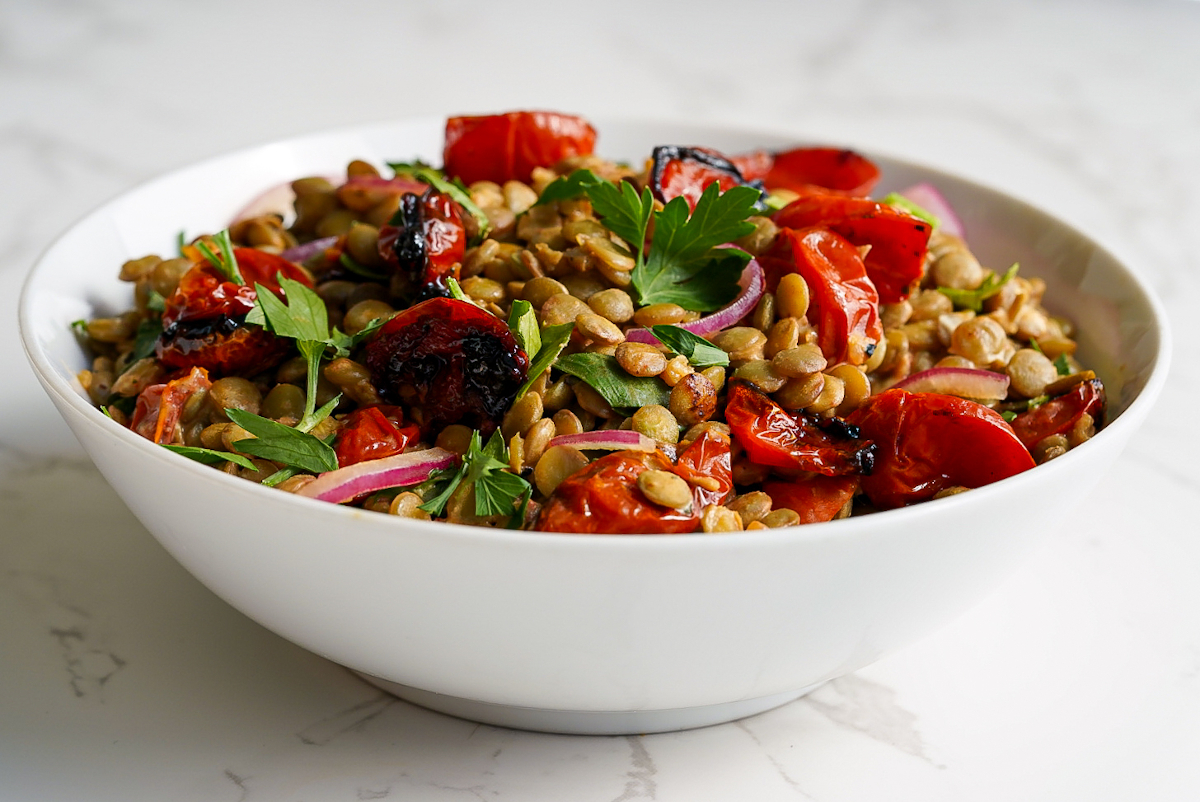 Green lentils are a nutritional powerhouse with 18 grams of protein and a whopping 15 grams of fiber per serving (1 cup, cooked.) But many people think lentils can be a little bland, which makes them difficult to look forward to eating. The solution? Mix-ins, like sweet roasted cherry tomatoes and herby Boursin cheese.
Found in most grocery stores, Boursin cheese is a soft, spreadable, and versatile dairy revelation with tons of flavor. It pairs perfectly with lentils, creating a craveable, comforting dish that will help you hit your fiber and protein goals.
Instructions
Preheat oven to 400 degrees. Toss the cherry tomatoes with olive oil, balsamic vinegar, and salt and pepper. Arrange in a single layer on a baking sheet and roast until bursting and shriveled, about 20-25 minutes. Set a timer to make sure you don't overcook the tomatoes, otherwise the balsamic vinegar will burn!
Thinly slice the red onion and place it in a bowl along with a splash of red wine vinegar and a little salt. Let the onions soften while the tomatoes roast.
Meanwhile, cook the lentils according to package directions.
When the lentils are cooked (or warmed in the microwave, if using pre-cooked lentils) and the tomatoes are roasted, combine them in a large bowl along with the Boursin cheese. Add the pickled onions, chopped parsley, and salt & pepper to taste. Serve warm.
Can't find any Boursin cheese? Try herbed, soft goat cheese or cream cheese. Just don't forget to adjust your macros!
Recent Posts: