Calories
571
Fat
15 g
Carbs
75 g
Protein
34 g
Serves
2
180 g shrimp, peeled & deveined*
250 g assorted mushrooms, sliced
7 g butter
2.5 g (1/2 tsp) olive oil
1 cup Classico Roasted Garlic Alfredo Pasta Sauce
4 cloves of garlic, minced
1 tsp cayenne
Salt & pepper
Chives, to garnish
Share:
Tags: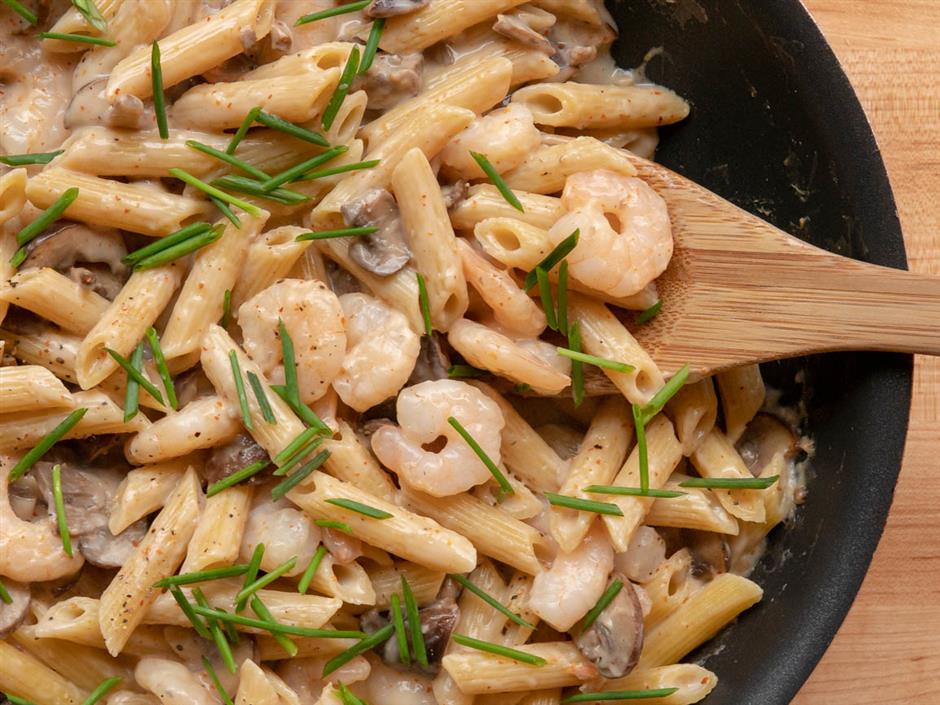 Didn't think creamy, alfredo pasta could ever fit into your macros? Think again. Classico's Roasted Garlic Alfredo sauce is surprisingly macro friendly, and with some fresh shrimp, mushrooms and a kick of cayenne, you'll have a rich pasta dinner whipped up in no time.
Instructions
Bring a large pot of water to a boil.
While the water comes to a boil, melt the butter and olive oil over medium-high heat in a large nonstick skillet. Add the sliced mushrooms and minced garlic to the pan and toss to combine.
Once the pasta water comes to a boil, throw in a few pinches of salt and add the pasta. Cook the pasta according to package directions.
While the pasta is boiling, add the shrimp to the mushrooms and saute until the shrimp begins to curl and turn pink. Add the alfredo sauce and bring the mixture to a simmer. Season with salt and pepper as desired.
When the pasta is cooked, drain the water and add the pasta to the sauce. Toss to combine and garnish with chopped chives.
Need more lean protein? Double the shrimp and adjust your macros!
Wondering how you can fit some of your other favorite foods into your macros? Ask your WAG one-on-one nutrition coach!
Recent Posts: