Calories
233
Fat
5 g
Carbs
42 g
Protein
5 g
Serves
4
200 g black rice
300 g (1 1/4 cups) coconut water
80 ml (1/4 cup) coconut milk
Pinch of salt
Optional: shredded coconut for garnish (not included in macro count)
Share:
Tags: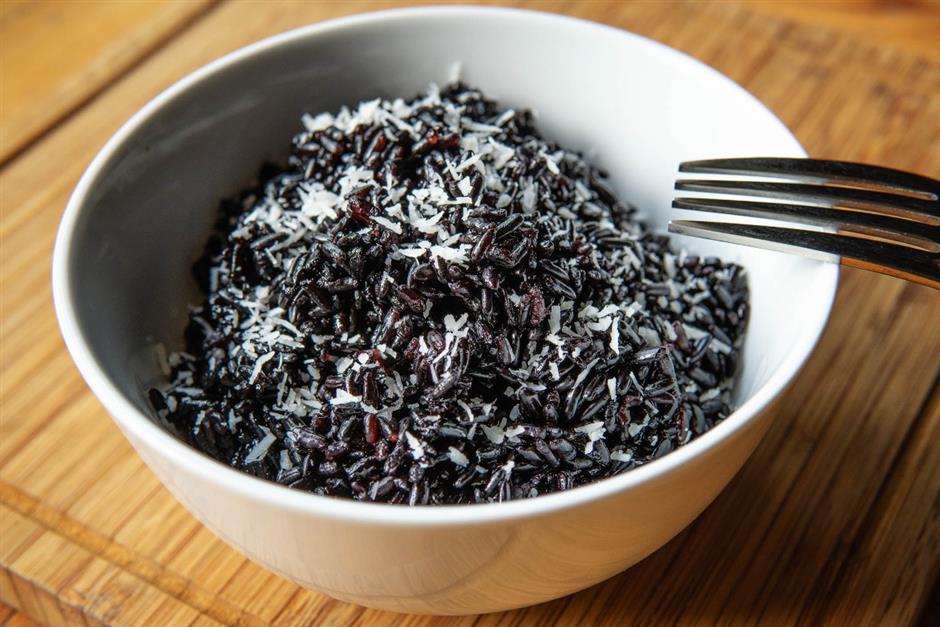 Coconut rice is a staple in Southeast Asian cuisine, but its high-fat content can be a killer on your macros. In order to lighten up the side dish without losing its creamy, coconutty goodness, we sub long grain white rice for short grain black rice (also known as Forbidden Rice) and cook the rice in a mixture of coconut water with a little full-fat coconut milk. The short grain black rice releases starches during cooking that create a creamier texture, and the coconut water adds a slightly sweet coconut flavor.
*Note that black rice tends to cook up better on the stove than it does in a rice cooker.
Instructions
Place the dry rice in a fine mesh strainer and rinse it under cold running water for a few minutes, in order to remove any excess starch. Transfer the rinsed rice to a medium pot and add the coconut water, coconut milk and pinch of salt. Stir to combine.
Bring the rice to a boil over high heat. Once the rice is boiling, reduce the heat to a simmer and cover the pot. Let the rice cook until kernels are tender and the liquid has been absorbed, about 45–50 minutes. Fluff with a fork and serve.
Black rice is a nutritional gold mine that is fiber-rich and contains powerful antioxidants that are responsible for its deep color. You can find black rice in the bulk bins at Whole Foods or at a specialty store, but if it's nowhere to be found, substitute your rice with whatever you have on hand, but take care to adjust cooking times.
Recent Posts: