Calories
134
Fat
2 g
Carbs
25 g
Protein
4 g
Serves
3 (serving size = 48g)
90 g popcorn kernels
10 g unsweetened cocoa powder or cacao powder
1 tsp cinnamon
1 tsp salt
24 g granulated [monk fruit sweetener](https://amzn.to/2RpjDUg)*
Ghee or coconut oil cooking spray
Share:
Tags: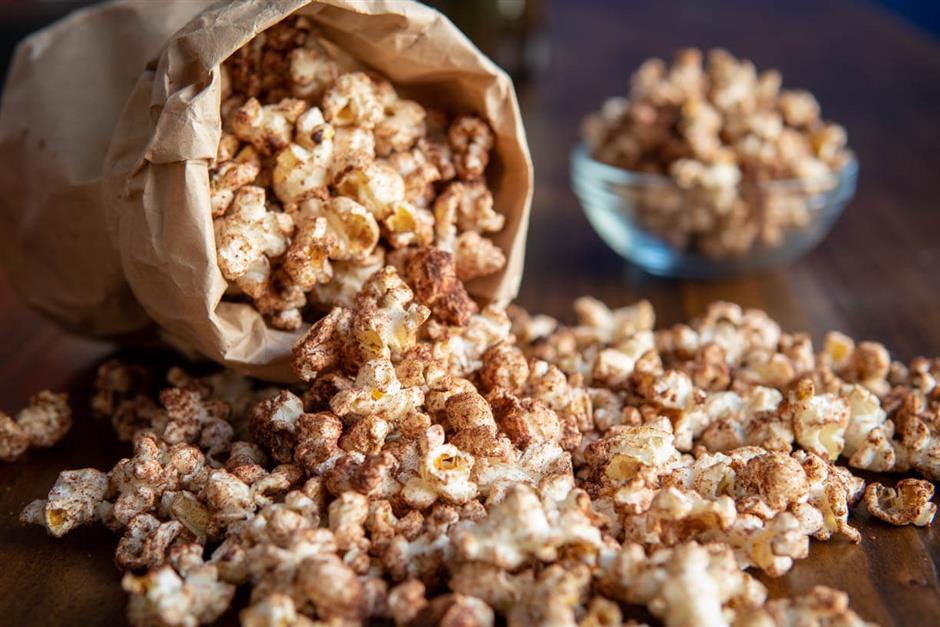 When a snack craving hits and all you want is a giant bowl of something, pop up a batch of our cocoa cinnamon popcorn. We'll walk you through the stovetop method for popping corn, but you can also use microwave popcorn. Just make sure to look for microwave popcorn that is as light and natural as possible, since most microwave popcorn is packed with sneaky fat and fake butter additives.
Instructions
In a small bowl, combine the cocoa powder, cinnamon, salt and monk fruit sweetener. Set aside.
Heat a large sauce pot with a matching lid over medium heat. The lid is absolutely necessary, otherwise your popcorn will pop everywhere. Add the kernels to the hot pot, spray them with a second or two of ghee spray, then cover and gently shake the pot. You want the kernels to be constantly moving, so they don't burn on the bottom of the pan.
After a minute or so, your first kernel should pop. Keep shaking the pan as the rest of the kernels burst, stopping occasionally to listen for popping. When the sound has subsided, immediately remove the pot from the heat and take off the lid. Using a wooden spoon, gently stir the popcorn while spraying it with a few more seconds of ghee spray. Add the cocoa mixture and toss until all the kernels are coated. Enjoy!
Monk fruit sweetener is derived from the Southeast Asian monk fruit plant. Monk fruit contains a natural antioxidant called mogrosides that, when extracted from the fruit, is 100–250 times sweeter than regular sugar. Mixed with erythritol, monk fruit sweetener can be subbed 1:1 for regular sugar.
This guide is jam-packed with everything you need to know about nutrition.
From tracking macros to meal ideas.
Recent Posts: