Calories
202
Fat
6 g
Carbs
27 g
Protein
10 g
Serves
8 (serving size = 57 g)
200 g pitted medjool dates (~12 dates)
Boiling water, to cover
62 g whey protein powder, chocolate or vanilla flavored
28 g coconut flour
35 g cocoa powder
50 g tahini
1/4 tsp pure peppermint extract
30 g dark chocolate, chopped into chunks
Share:
Tags: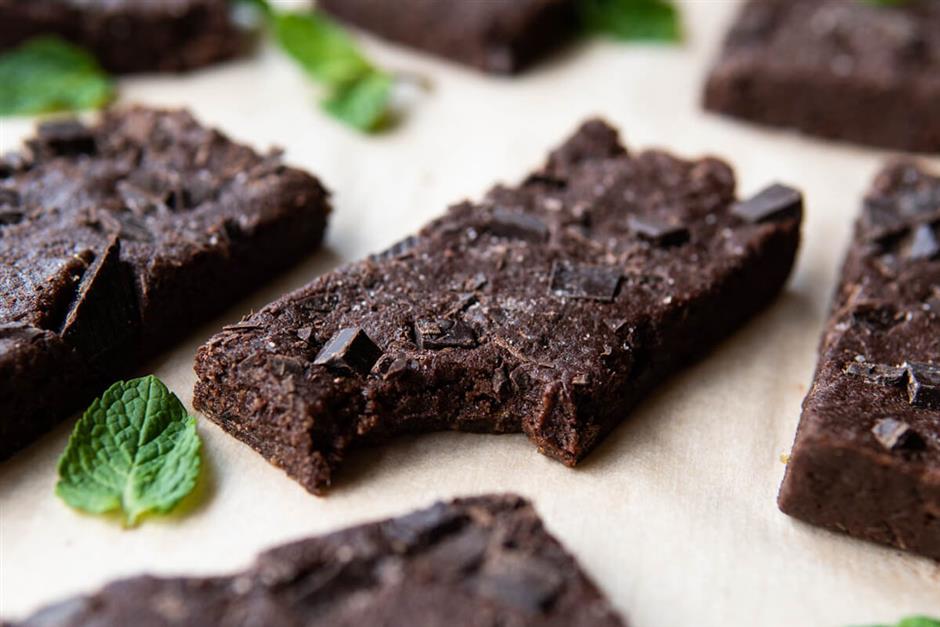 Why take the time to make your own protein bars when there's a whole aisle at the grocery store? Two reasons: quality control and your wallet. Store-bought protein bars are great in a pinch, but artificial flavors and epic ingredient lists (not to mention a curiously indefinite shelf life) often lead to "chocolate"-flavored cardboard. And while some may argue that we are in the golden age of clean-ingredient energy bars—RX Bars, Perfect Bars and Primal Kitchen bars come to mind—they're not cheap. One or two won't set your bank account back, but a daily bar habit could easily cost $100 a month.
The solution? Take 10 minutes and make your own! Not only are our chocolate mint protein bars like a cross between RX Bars and a fudgy brownie, but they only have 6 grams of fat compared to RX Bar's 9 for a similarly sized bar.
Note that Medjool dates differ in texture and moisture levels. Some are soft, others are dry. If your dates are on the drier side, you may need to add a little bit more of the date water to get the right consistency. The dough should just hold together in a ball, but not be so wet that it sticks to your fingers. On the other hand, if your dates are super soft and your dough is a bit too sticky, simply add a little bit more protein powder until it comes together. Just don't forget to adjust your macros!
Instructions
Line an 8x8 baking pan with parchment paper. Set aside.
Remove the pits from the medjool dates and put the dates in a bowl. Cover the dates with boiling water and let them steep while you weigh the remaining ingredients.
Add the protein powder, coconut flour and cocoa powder into a food processor bowl and process to combine. Remove the pitted dates from the hot water (but don't throw out the water) and add them to the food processor along with the tahini and peppermint extract. Pulse the mixture until it forms a ball. If it's a bit dry or crumbly, add a little of the date water 1 teaspoon at a time until the mixture comes together.
Transfer the mixture to the lined baking pan and use your fingers to smooth it into an even layer. Sprinkle the chopped dark chocolate over the top of the bars and press it into the surface.
Pop the bars in the freezer for 20 minutes to firm up, then cut them into 8 even pieces.
Store the bars in the refrigerator.
Once you get the method down, you can switch up the extracts, nut butters, and toppings to make any chocolatey flavor you want...but be sure to update those macros!
Recent Posts: