Calories
297
Fat
9 g
Carbs
24 g
Protein
30 g
Serves
3 (serving size = 280 g)
300 g chicken breast, diced into 1-inch chunks
1/2-inch knob of fresh ginger, finely grated (or 3/4 tsp ground ginger)
2 cloves garlic, minced or pressed
8 g (1 tbsp) cornstarch
60 g (3 1/2 tbsp) soy sauce
30 g (2 tbsp) mirin or Chinese cooking wine
50 g (3 tbsp) oyster sauce
15 g (1 tbsp) chili garlic sauce
9 g (2 tsp) sesame oil
8 drops liquid stevia
Pinch of pepper
150 g broccoli florets, cut into bite-sized pieces
60 g red onion, sliced
75 g red pepper, diced into 1-inch chunks
50 g snap peas
1 Thai bird's eye chili, whole (optional)
30 g roasted cashews
90 g chicken stock or water
1–2 chopped scallions, for garnish
Share:
Tags: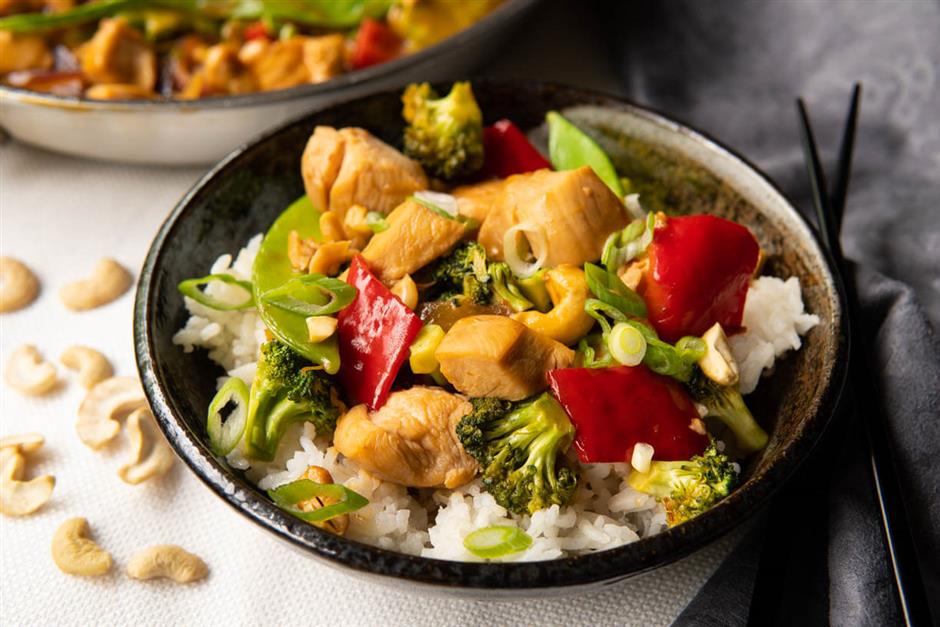 Cashew chicken is a takeout staple that's perfect for a macro overhaul. Our saucy version is loaded with veggies, lean chicken and enough cashews to satisfy that craving, but not so many that your fat grams go out the window! This recipe is also versatile, which makes it perfect for cleaning out the vegetable drawer. Sub any of the veggies with bok choy, carrots, Chinese cabbage or cauliflower.
Instructions
Dice the chicken breast into 1-inch chunks and place them in a small bowl. Add the minced garlic, grated or powdered ginger, and set aside.
In a medium bowl, whisk together the cornstarch and soy sauce until smooth. Then whisk in the mirin, oyster sauce, chili garlic sauce, sesame oil, liquid stevia and a pinch of pepper. Spoon 2 tablespoons of the sauce over the chicken, stir it all together and let the chicken marinate while you prep the vegetables, about 10 minutes.
Wash and cut all the vegetables. When you're ready, heat a large nonstick frying pan over medium-high heat. Spray the pan with cooking spray and cook the onions and the bird's eye chili for 3–4 minutes, tossing occasionally, until the onions begin to brown. Push the onions to one side of the pan and add the chicken, letting it cook for about a minute before flipping. Turn the chicken and let it cook for a little longer, then add the broccoli, peppers and snap peas. Give everything a stir and let it cook for another minute.
Whisk the chicken stock into the sauce, then pour all the sauce into the pan. Give everything a stir and let the mixture cook until the sauce bubbles and thickens about 2–3 minutes. Test a piece of chicken to make sure it's cooked, then stir in the cashews and chopped scallions. Serve with rice.
If you love spice, double the chili garlic sauce and add an extra Thai bird's eye chili!
This guide is jam-packed with everything you need to know about nutrition.
From tracking macros to meal ideas.
Recent Posts: