Calories
222
Fat
10 g
Carbs
7 g
Protein
26 g
Serves
1 (makes 4)
1 lb(s) ground turkey, 93% lean
0.5 cups, onion
1 tsp garlic, raw
0.75 cup chopped carrots, raw
1 cup chopped celery, raw
Salt and pepper to taste
0.50 cup(s) Red Hot Buffalo Wing Sauce
80 g iceberg lettuce
0.25 cup (28 g) blue cheese crumbles
Share:
Tags: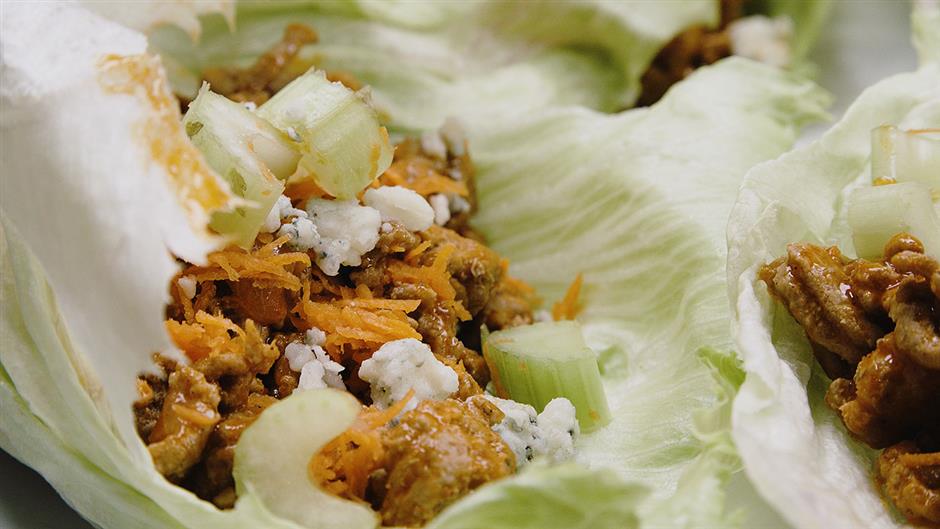 These buffalo lettuce wraps have loads of flavor and volume with few calories. Keep the whole serving for yourself or share with your friends. These are also easy to set up buffet style!  
Instructions
Heat a large sauce pan to medium heat and sauté onions for a couple of minutes until softened.
Add garlic and stir for about a minute until aromatic and well mixed with the onion.
Add ground turkey, salt and pepper.
Stir the meat until brown and cooked through. Drain any grease because you don't want soggy wraps. Then return the meat to the hot pan.
Add the wing sauce to the pan and reduce heat to low. Leave for a couple minutes to simmer.
Prepare lettuce wraps by placing spoonful of meat into a crisp, large lettuce leaf. Sprinkle carrot shavings, chopped celery and a little blue cheese or dressing on top. Wrap up and start eating!
Recent Posts: