Calories
94
Fat
2 g
Carbs
14 g
Protein
5 g
Serves
5 (serving size = 108 g)
415 g Brussels sprouts, quartered*
180 g asparagus, trimmed into bite-sized chunks
215 g onion, any color, cut into 1/2-inch dices
15 g chopped fresh rosemary
2 tsp salt
1/2 tsp black pepper
3/4 tsp garlic powder
3/4 tsp cumin
1/2 tsp onion powder
1/2 tsp paprika
Pinch of cayenne
Olive oil spray (5-second spray)
Share:
Tags: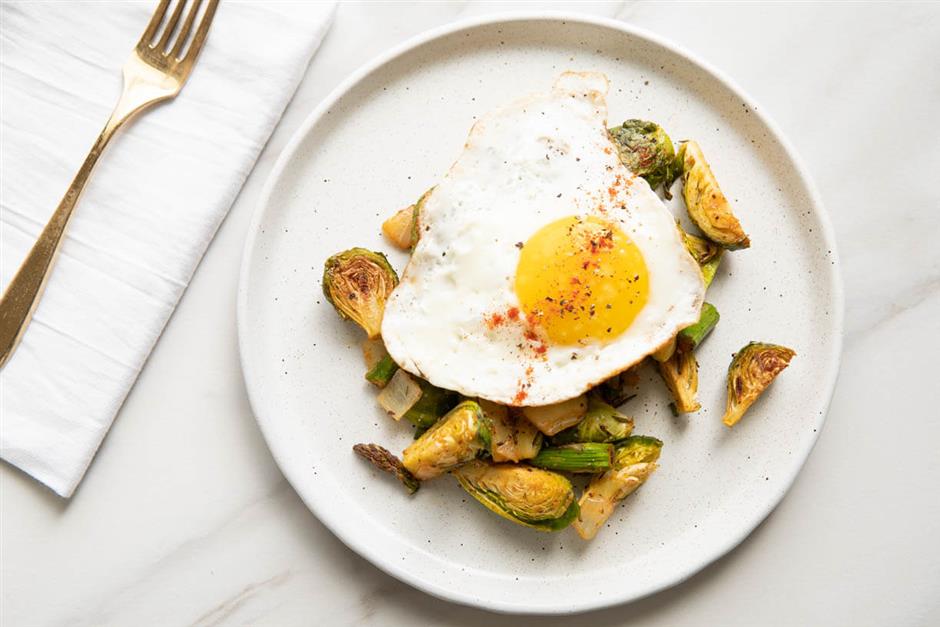 With 4.5 grams of fiber per serving, this roasted Brussels sprouts and asparagus breakfast hash is a great way to start the day. The key to keeping the Brussels crisp is to make sure you don't crowd the roasting pan, so take care to spread the hash out on at least two sheet pans so the veggies have space to brown, not steam.
Serve this hash with a fried egg, your favorite macro-friendly breakfast sausage or with our easy tofu scramble.
Note that the egg is not included in the final macro count.
Instructions
Preheat the oven to 400 F.
Trim Brussels sprouts of any brown stems and cut them into quarters. Add them to a large bowl along with the trimmed asparagus and diced onion. Spray the veggies with olive oil spray—a 5-second-long spray—and toss to coat. Then add the rosemary, all the spices, and the salt and pepper. Toss the veggies until they're evenly coated with spices, then spread them evenly in a single layer across two sheet pans.
Roast the veggies for 20–25 minutes, swapping the trays on the oven racks halfway through so everything roasts evenly.
Store leftovers in the refrigerator for up to five days or freeze for up to three months.
*The Brussels sprouts need to be completely dry before they go in the oven. If you buy your Brussels in bulk and clean them at home, wash them the day before so they have time to dry out overnight. Otherwise, look for pre-washed Brussels.
This guide is jam-packed with everything you need to know about nutrition.
From tracking macros to meal ideas.
Recent Posts: