Calories
126
Fat
6 g
Carbs
15 g
Protein
3 g
Serves
12 (serving size = 38 g)
1 15 oz can of black beans, rinsed and drained
1/2 tsp ground coffee
60 g oat flour or ground old fashioned oats (gluten-free, if desired)*
60 g coconut oil, melted
32 g brown sugar
40 g Lakanto Monkfruit Sweetener
36 g blackstrap molasses
1 1/2 tsp ginger
3/4 tsp cinnamon
1/2 tsp cloves
Pinch of black pepper
1/2 tsp vanilla
1/2 tsp salt
1/2 tsp baking soda
2 tsp apple cider vinegar
10 g powdered sugar
1/2 tsp water
Share:
Tags: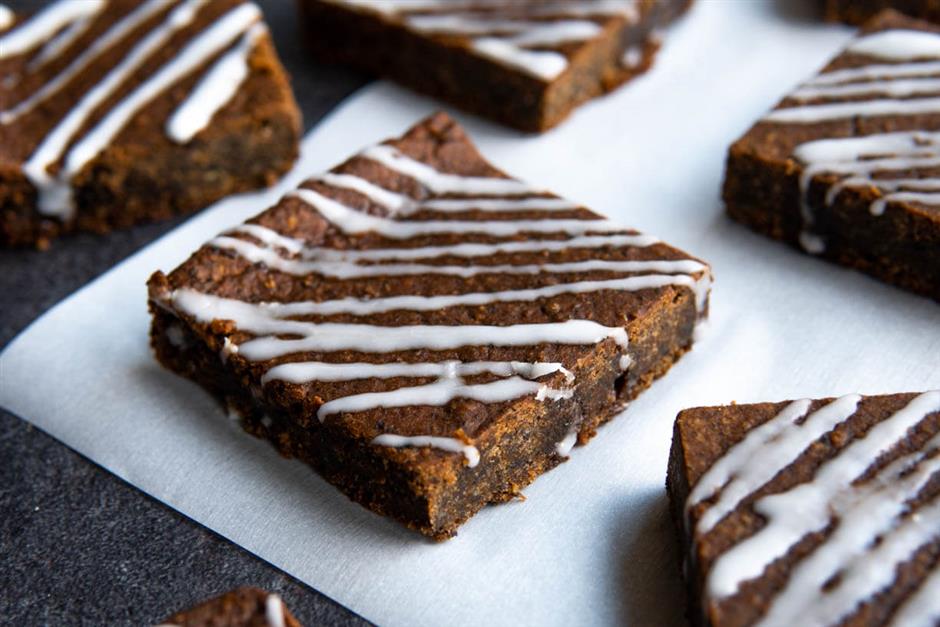 The holidays are here! Get cozy this cheery season with our macro-friendly gingerbread bars, made with lots of spices, blackstrap molasses, and a black bean base. Don't worry, you'll never taste the beans—they serve as a binder that keeps fat grams down without compromising flavor or texture (and they add a hearty 3 grams of fiber per bar!).
To help lower the overall sugar, we used a combination of brown sugar and Lakanto Monkfruit Sweetener to sweeten the bars. If you're not into monk fruit, you can substitute an equal amount of white sugar, coconut sugar or brown sugar (and adjust the macros!). Don't skimp on blackstrap molasses, though. Molasses is key to getting that signature gingerbread flavor, so don't play around with any other substitutes.
Instructions
Preheat the oven to 350 F and line an 8-inch square baking pan with parchment paper.
Add all the ingredients for the gingerbread bars into the bowl of a food processor and pulse until combined. Scrape down the sides of the bowl and pulse one more time. Pour the batter into your lined pan. It should be thick but spreadable. Bake the bars for 20 minutes, until set and just cracked at the top. Let the bars cool completely in the pan before slicing or icing.
To make the icing, stir a 1/2 teaspoon of water into the powdered sugar. You may need a literal drop or two more of water to get the right consistency, but be careful not to add too much, otherwise, your icing will be runny. Spoon the icing into the corner of a small zip-seal baggie and snip off the tip so you have a hole about the size of a pencil point. Zigzag the frosting over the cooled bars, slice and enjoy!
A coffee or spice grinder is perfect for grinding oats into flour, or you can use a high-speed blender or food processor.
This guide is jam-packed with everything you need to know about nutrition.
From tracking macros to meal ideas.
Recent Posts: