Calories
229
Fat
13 g
Carbs
2 g
Protein
26 g
Serves
2 (serving size = 98 g)
8 oz bison strip loin steak, about 1 1/2" thick
15 g pesto (the macros for this recipe were calculated using our Lightened-Up Basil Walnut Pesto)
5 g sherry vinegar
5 g hot water
Coarse salt
Black pepper
Canola oil spray
Share:
Tags: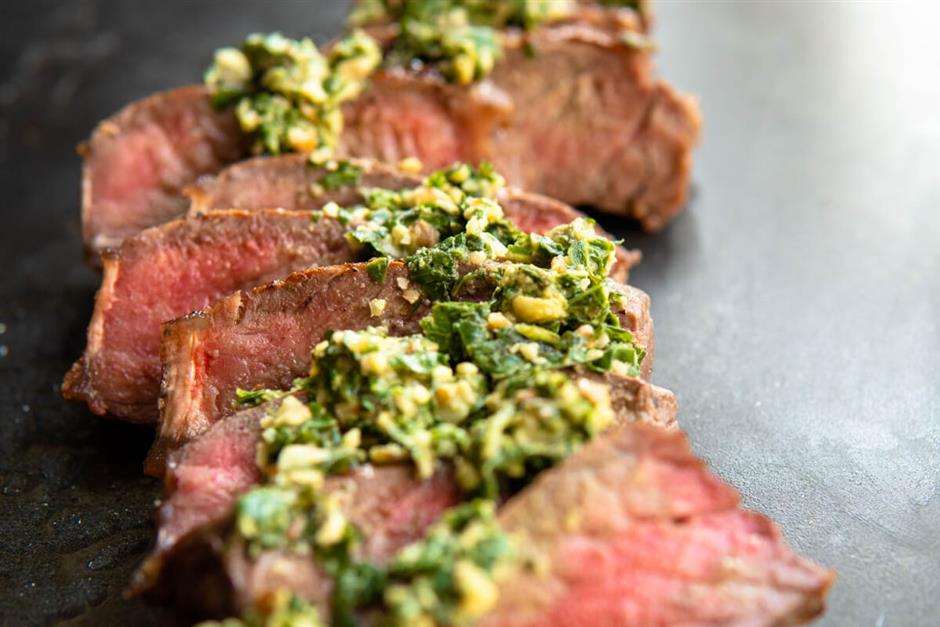 When fat grams are a precious commodity, bison is your red meat savior. Like beef, different cuts of bison have different levels of fat, with the strip loin clocking in at a reasonable 9 grams of fat per 4 oz cut. Topped with our punchy, lightened-up pesto sauce, you'll never need to choose between steak and macros again.
Note that bison is best served medium rare, but because of its lower fat content, it cooks more quickly than beef and is susceptible to overcooking. In order to combat a dry, brown steak, this recipe calls for the reverse sear method and a food thermometer.
Instructions
Preheat your oven to 250 F. Generously season both sides of the steak with salt and pepper and let it rest at room temperature while the oven preheats.
When the oven is ready, place the steak on a baking sheet set on top of a wire rack. If you don't have a wire rack, you can place the steak directly on the oven rack with a baking sheet on the rack beneath it in order to catch any drippings (just make sure your oven rack is clean!).
Roast the steak in the oven until it is 10 to 15 degrees below the final temperature. For medium-rare, that's 110–115 F, or about 20 minutes in the oven.
Meanwhile, combine the pesto, sherry vinegar and hot water in a small bowl. Set aside.
Just before the steak comes out of the oven, heat a frying pan (cast iron is best) over high heat and generously spray it with cooking spray. When the pan begins to smoke, sear the steak until it's well browned, about 45 seconds to a minute per side.
Once finished let the steak rest, then slice it against the grain and brush it with the pesto before serving.
A good food thermometer is essential to get the perfect pink center with the reverse sear. Look for a digital instant-read thermometer to guarantee results.
This guide is jam-packed with everything you need to know about nutrition.
From tracking macros to meal ideas.
Recent Posts: