Calories
337
Fat
13 g
Carbs
47 g
Protein
8 g
Serves
1
20 g dried unsweetened cranberries
1/4 cup boiling water
2 tsp red chili flakes
60 g red onion, diced
1 clove of garlic, minced or pressed
1 tsp coconut oil
1/2 tsp sea salt
190 g or 1 large ear of corn
1 tbsp fresh thyme leaves
10 g chopped pistachios
Black pepper
Squeeze of lemon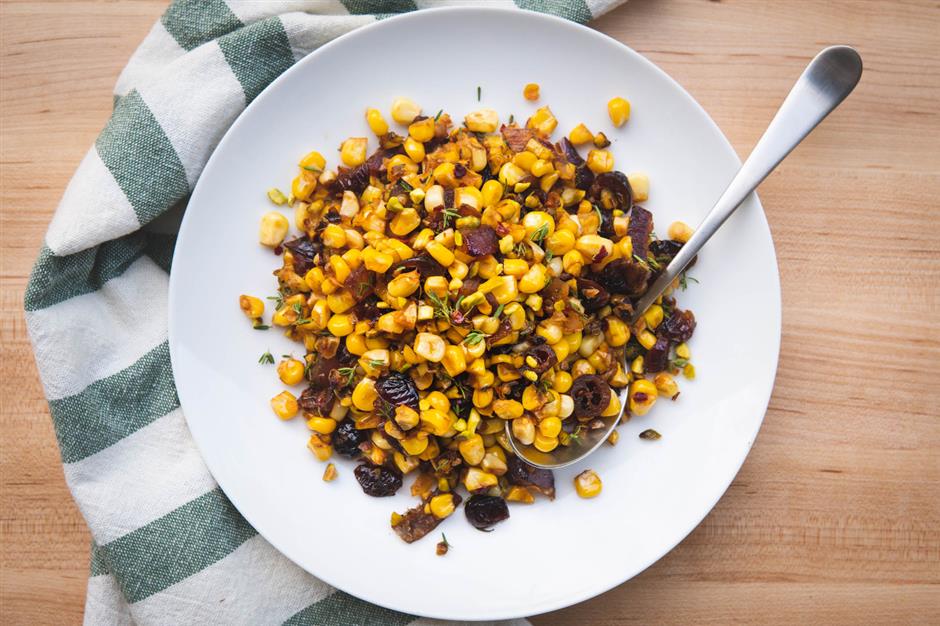 With fall around the corner, it's time to tuck into some warm autumn dishes that are as comforting as they are nutritious. With sweet corn, tart cranberries and a spicy kick, this salad pairs perfectly with your favorite protein. Whip it up as is for a quick meal for one, or multiply the recipe for a hearty meal that can be made in bulk and eaten throughout the week.
Instructions
Bring water to a boil. Add dried cranberries with 1 tsp of red chili flakes to a small bowl. Once the water is boiling, carefully add it to the bowl and let the cranberries steep and hydrate while you prepare the rest of the salad.
Heat a medium frying pan or cast iron skillet over medium heat and add the coconut oil. Add the remaining 1 tsp of red chili flakes to the hot oil. Allow chili flakes to fry in oil for a moment, then add the red onion and sea salt to the pan. Stir and cover. Once covered, allow the onions to cook until soft and translucent (about 5 minutes).
While the onions are cooking, strip the fresh thyme leaves from their stem and cut the corn kernels off the cob. (Check out these quick tutorials for removing leaves from herbs and getting corn off the cob.) Note: If you're using canned or frozen corn, make sure to drain the liquid before adding it to the pan.
When the onions are ready, add the corn kernels to the skillet along with a clove of minced garlic and cook for another 5 minutes.
Add the cranberries and their liquid into the pan along with the fresh thyme and turn the heat to high. Continue to cook the mixture until all the liquid evaporates. Season the salad with fresh cracked pepper, a squeeze of lemon and salt to taste. Top with the pistachios before serving, and enjoy!
Track your other fall favorites with the help of a one-on-one nutrition coach! Sign up now!
---
You Might Also Like