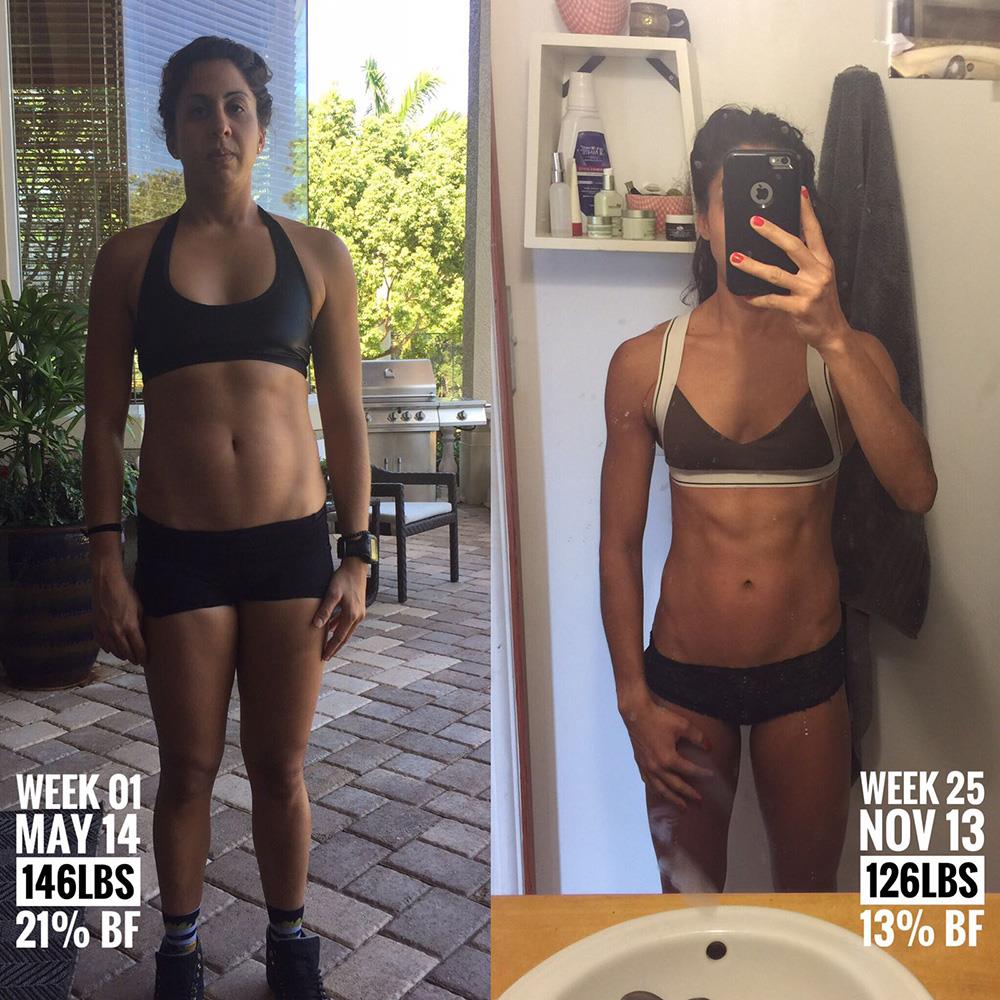 Goal
Lose body fat & gain muscle; ultimately I wanted to be more confident with my body. I trained way too much and watched my eating too closely to not even feel confident wearing a bikini or training without a shirt. I also wanted my performance in CF t
Testimonial
The program has been very good for me. It works well with my mindset, such that I like the structure in terms of a set number of macros to meet. No matter where you go or what you eat, the same rules apply. I appreciate that WAG allows me to continue eating Paleo and does not force upon your particular foods to consume that may not be your choice (i.e. dairy & grains). Through WAG, I now eat a lot more variety in foods as I know that once I stay within the prescribed macros, the foods are "safe."
As I travel internationally quite a bit for work, regimented timing and access to certain types of food is not always possible. Therefore, meeting the macros within the day, no matter how you get to it, is a much easier approach. For me, I continue to eat strictly Paleo, but have found the foods that allow me to consumer more, enjoy greater satiety and still work within my macros. This also helps to avoid over/under eating while traveling so that progress on the program is not stalled.
After 25 plus weeks on WAG, I am very happy with the transition my body has experienced. I am still in shock that my body had that much weight to lose and I was carrying around such a high level of body fat. Especially given that persons always said I was small and/or slim. It has been a big learning experience that everyone's view of what looks good, bad, healthy/unhealthy is all different and you must stay true to what makes you feel good both inside and out. For some a leaner figure is preferred, which others like themselves/others as a thicker body figure.
In the beginning, as I strictly followed the guidelines Kelsie put in place, the weight came off quite quickly and it was barely a couple months before the comments started to come my way. They were mixed as to if the loss in weight was for the better or not. Being someone who has been significantly underweight in past years and come through a lot of changes with their body, the comments began to take me back almost ten years when I was in an unhealthy state depriving my body and not seeing myself through clear lenses in the mirror. Kelsie stood strong for me as I shared with other my roller coaster of emotions. Was I, in in fact throwing away all the progress I had put in both physically and mentally in overcoming mental hurdles of body image over the past years, to now lose almost 20lbs and study the food so closely to know down to every slice of onion what I was consuming?
It started to turn around as the comments began to change and persons very close to me who had seen me through it all, commented I was in now in the best shape they had ever seen me. By end of September (4 months in), I went back home to Barbados and felt so confident to strut around in a swimsuit that I was a bit disappointed I had opted for the in style one pieces as opposed to the bikinis to show off the flat stomach I had worked so hard for over the past few months. And the supportive feedback came my way on how my body was in a much better place.
With WAG, I am trying to find balance with counting macros and know when to say, this is a meal I am going to enjoy with family and/or friends and try to relax as opposed to getting anxious that I get all the macros counted correctly. Kelsie has helped me to work through the emotions, as I am an all/nothing personality and need to find balance and allow for some leeway occasionally.
Last week I took a comparison photo, attached, which started to put it in perspective for me and I am now very happy with the progress made and look forward to putting on a bit more muscle, but enjoying a leaner, in-shape figure. It was difficult at first drastically cutting my calorie intake, but your body adjusts and you adjust in knowing how to provide food for better satiety. Now, the steady adjustments in calories upwards has helped it all to feel more like a lifestyle than a diet. The program has taught me a lot about myself, food in general as well as broaden my scope in terms of what I can enjoy to eat and not have to feel guilty.
WAG is not for everyone, but I think to see measureable progress it is important to trust the process, be consistent with the guidelines provided by your coach and be very transparernt with yourself and your coach.
Thank you for the opportuntiy to be a part of WAG and again for the recognition of my progress.
Get Your Coach Today!